Being the prodigal daughter that I am, going home has never been my favorite part of the journey, even when I have a lot of catching up to do, dues to pay, and miss my dog enormously. I still prefer riding away from, not back to, home. Most ponies run faster once they are turned toward the barn. This pony is always looking for one last fork in the road, one last experience to cram into my journey.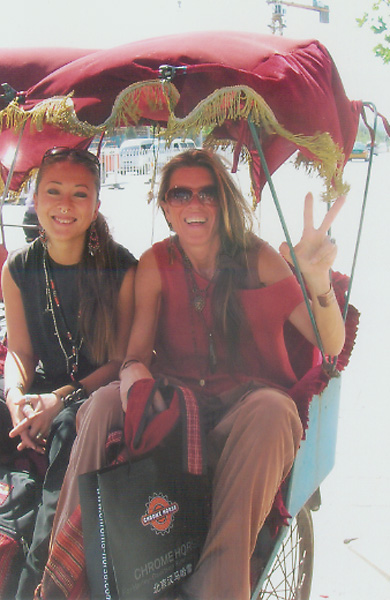 I hadnt even gotten halfway home from Sturgis when an opportunity to join my American-born Chinese buddy Qian (pronounced Chin) in China came up. She and I have been to China together before and usually combine the trip with another place like Tibet or Nepal. This time the other place would be Mongolia. Why Mongolia you ask? Well, for quite some time, she and I have been interested in seeing the eagle hunters of this region. These nomads travel on horseback with golden eagles upon their shoulders, and go off into the wilderness to do this hunt.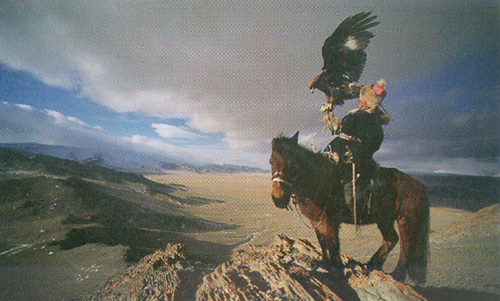 As is typical for our adventures, we only researched half of that story. But what we did not know was that they hunt fox and wolves. Ive been on safari in Africa and have seen the hunt enough times to know that it is a slow and painful process to watch. I was prepared to watch them hunt marmots, rodents, or maybe even bunnies. But I was not down for watching eagles peck a wild wolf to his slow death. But Im getting ahead of myself here.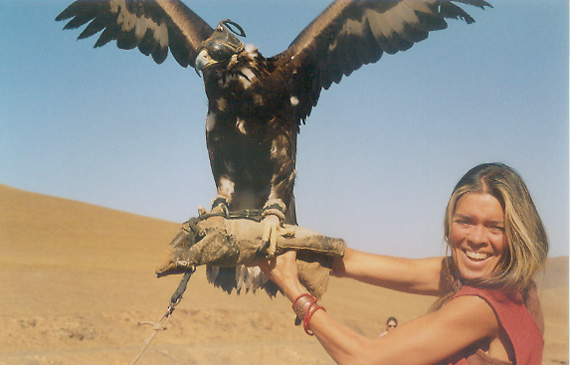 Youd think I'd be a spontaneous sort of girl,with the lifestyle that I lead. Nothing could be further from the truth! Not only was I a girl scout, but my mom was the troop leader in the early days. At a young age, I learned to be prepared. I NEED to be prepared. I almost lose my mind if I am caught unprepared in an emergency situation. So to be rushing home from a month of travels, to unpack, repack, and try to get visas expedited was chaos. I would need a pity fund, and who would want to loan my sad ass mad money?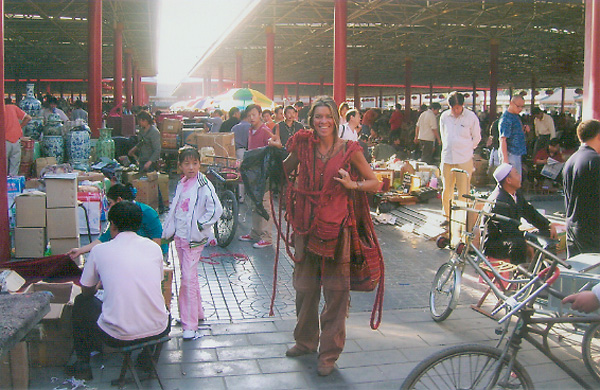 But I managed it, of course I did. I am incapable of saying no to third world travel. OK, any kind of travel. OK, any kind of fun! I just hate missing out! Especially on the Beijing swap meet! It really is one of the best in the world. And, I had just recently seen on the news that the first Harley-Davidson dealership had opened in Beijing so I was hoping we could find it, and check it out, maybe even get bikes, although riding a motorcycle in Beijing would be more dangerous than a game of Russian roulette. So I went online, and downloaded all of the info I could find on the new dealership, and read it on the plane. Even with several articles in hand, the best information I could find is that it was located on the fourth ring road, in northeast Beijing. Geeeez, Beijing is HUGE, and hoping that your taxi driver understands where you want to go is a real gamble. Hes likely to drive you in circles until you figure out that you owe him a lot of money, but you still are not where you want to be. Qian speaks Chinese, and we still spend a lot of lost hours in China.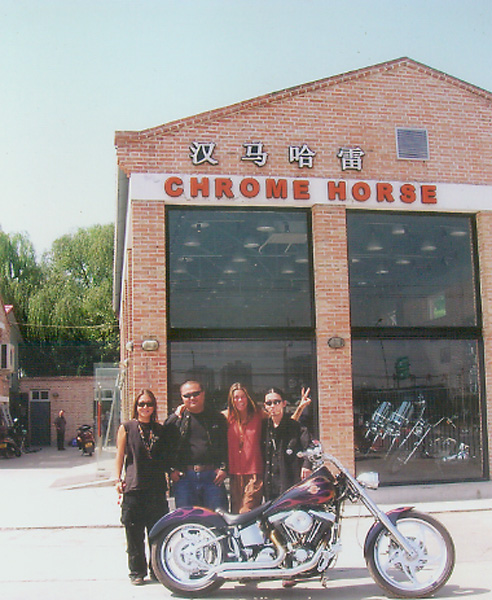 Finally our diligence paid off. What I learned is that director Kin One opened the authorized Beijing Harley-Davidson in March. But in less than a half of a year, that fell apart. He then opened an unauthorized Harley-Davidson dealership in a nearby location, and shares the lot with a BMW dealership. The new business is called Chrome Horse Motorcycles Beijing, and has everything youd expect to find at a Harley dealership. Its a beautiful two story, brick building with wooden floors and beamed ceilings. There were more than a dozen bikes on the showroom floor, each carrying a price more than twice what you would expect to pay here in the U.S.
I had read a lot about the "Godfather of Harley-Davidson" but wasnt expecting such a cute young guy. A married, 36-year-old with two children, he barely looked 22. We were lucky enough to find Kin One in the showroom on a sunny Sunday afternoon, even though all of his friends were up riding in the mountains. Behind the counter is a framed picture of Kin One with Willie G. Davidson. Kin has been to the factory in Milwaukee, and is planning to attend Love Ride this year in Glendale, California.
He explained to us a lot of the problems he has been experiencing trying to keep a dealership alive in Beijing. He told us that in 1989 there was a large student revolution involving many activists on motorcycles. The government came to look at bikers as rebels, and in turn has made it difficult to own and operate a motorcycle in Beijing. To begin with, there is the cost. No average person can afford a Harley, or almost any large motorcycle for that matter. Then there are permit restrictions. To operate a motorcycle within the first three rings of the city, you must be granted a special permit, and not many are granted. Then if you can afford a bike, and you can get a permit, you still have to watch your step. They dont tolerate organized bike activity, and use excuses like noise and any disruptions to break it up. Having a club, and using a club name, is not allowed. Kin and his group of friends who ride together call themselves the Harley team. Hes been doing this for 13 years and truly has a passion for it. His friends who ride with him are all professional men who can afford the luxury. They ride all over the country together, but keep it within the legal limits, otherwise it just means trouble for this businessman. So the idea of renting Harleys and tooling around Beijing is not likely to happen any time soon. So, instead, we hired a tuk tuk, and headed off to the swap meet.
The next morning we hopped a train across the Gobi desert and through Mongolia. Squished next to Qian in our own small compartment with dust so thick we could barely see, thirty hours aboard that train felt like thirty days! Another important life lesson! Never take breathing for granted. Air in lungs is good. Dirt in lungs is not so good. It was 30 hours of a flat, dirt desert dotted with occasional eagles and wild ponies. And as sparse as the country is, we were shocked to arrive in its capital city, Ulaanbaatar. It was surprisingly hip, with skinny girls sporting tight jeans, stiletto heels, and spandex tops. Boys were listening to rap, and doing the Mongolian gangster thing. I was amazed, but being that cities are never my thing, we got in a jeep, and headed off in search of nomads and adventure.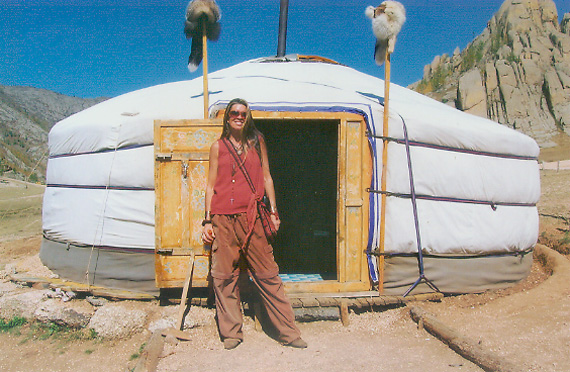 We went to a place in the mountains called Turtle Rock, and found a Ger to call home. A Ger is like the Mongolian version of an American teepee. It was nestled in a valley, and surrounded by pine and birch trees. It looked a lot like Wyoming, but a little further away. There were five gers pitched in our little area, so we had friends from England, France, Germany, and Canada all "gering" it with us. We shared sticky rice and goat milk for breakfast with no sugar or salt. Then there were sticky noodles with goat meat for lunch, and sticky rice with goat meat for dinner. Then, as a special treat, we had some warm goats milk just before dinner. Nothing keeps the dust in your lungs as good as goats milk! It was mucus and carbohydrate hell!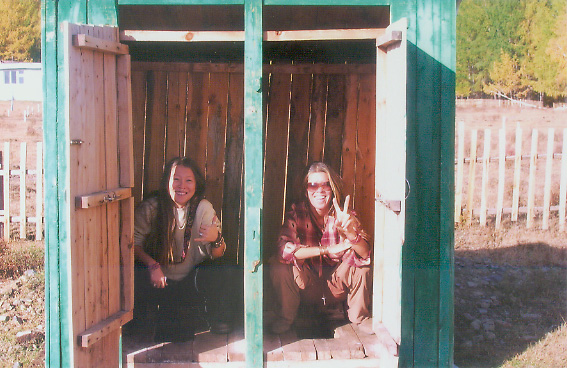 Pretty much the only way to get anywhere once you are dropped off out there, is on your own two feet, or on a variety of animals not all too eager to give you a lift. There were far more animals in this country than people, and for the most part, they were wild, healthy and happy. There were camels, goats, yaks, oxen, and of course, lots of wild ponies. Riding the ponies was pretty much a huge ordeal. Just explaining that we wanted horses, and agreeing to a price took quite some time. Then the guy took our money, and rode off into the horizon. It was a good half hour before we saw him again, but here he came, with dozens of wild horses for us to choose from — or so we thought. No, we got the ones he was lucky enough to catch with his little stick and rope routine. That in itself was entertainment at its finest! We had made a great new friend from England, so we were in need of three horses. Another hour later, we were off. Over the plains, through herds of goat and yak we rode. The mountains were golden as the fall leaves were changing. We were lucky enough to have sunny, 70-degree weather. The majority of the year in Mongolia is below zero, and snowing or raining, so we did count our blessings.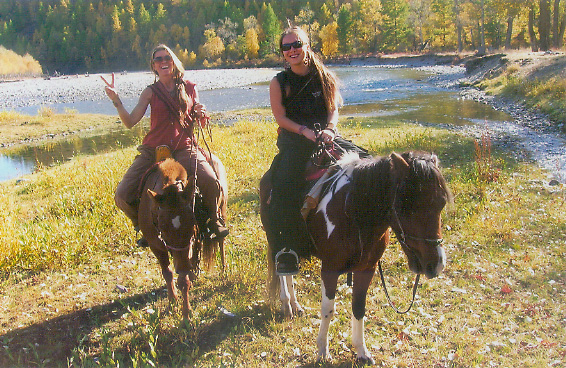 Through the mountains, the forests, we crossed rivers and streams. And all of it on hand made wooden saddles, with silver decor right in your crotch! It only took one afternoon of this to completely take the skin off of my skinny ass. I tried sitting different ways in the days to come, but there are only so many ways you can sit in a saddle. Even the padded airline seat home felt like punishment.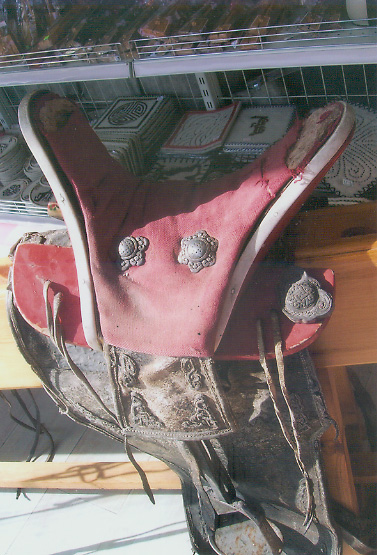 We did find golden eagles and their hunter friends. We had the breathtaking experience of having the eagles perch on our arms. The unoccupied space in Mongolia is liberating. The nomadic people were as nomads are, uncomplicated, happy, and healthy. So were their children, dogs, and cats. English was not very common or understood, but when your needs are basic, they seem to be met, and happily so. For the most part, you are actually pretty happy to get sticky rice when you are really hungry. But, I must say, this pony that doesn't usually want to return to the barn, is really happy to be home!
To see more of Betsy, visit her Web site at BetsyHuelskamp.com.