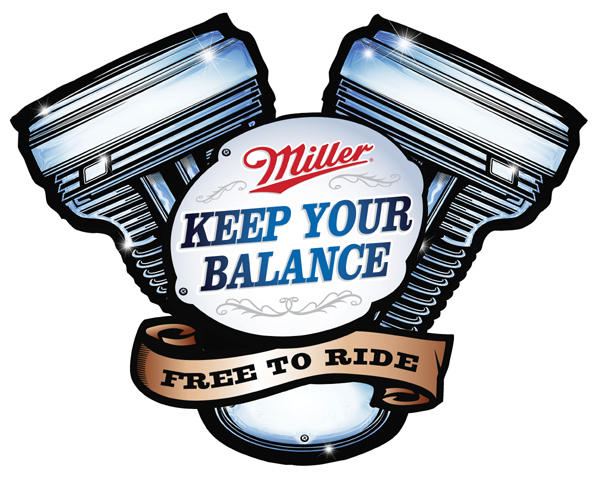 Miller Brewing Company and the American Motorcyclist Association (AMA) are creating Keep Your Balance, a new program intended to promote safe motorcycle riding practices and responsible alcohol consumption. The program, endorsed by the National Fraternal Order of Police, launches at the Tomahawk Fall Ride on September 13-16 in Wisconsin.
Miller believes that individual responsibility is enhanced by the ability to make informed choices. Keep Your Balance promotes rider education and emphasizes the importance of planning ahead and getting home safely. Following the Tomahawk kickoff, this national program will be a part of additional motorcycle events across the country. Keep Your Balance is also endorsed by the National Fraternal Order of Police, the worlds largest organization of law enforcement officers
"Our goal with Keep Your Balance is to provide motorcycle enthusiasts and local retailers with information about how to reduce irresponsible motorcycle riding, due to over-consumption of alcohol, unsafe riding practices or insufficient training," said Diane Wagner, alcohol responsibility manager at Miller Brewing Company. "Tomahawk is in Millers home state, and with more than 40,000 motorcycle enthusiasts in attendance, both Miller and the AMA recognize it is a key opportunity to share safe riding tips and remind riders about responsible drinking."
According to National Highway Traffic Safety Administration (NHTSA) data released in August 2007, motorcycle fatalities have increased 47 percent since 2002 making this program especially relevant to riders today. Under the umbrella of Millers successful Respect the Road program, Keep Your Balance will provide motorcycle riders and retailers with educational training materials and tools to encourage responsible practices and to help prevent the hazards associated with impaired motorcycle riding.
Elements of the program include: certified server training for local retailers, a public awareness campaign, training resources for riders, educational materials on safe riding practices, retail involvement and promotion, incentive giveaways such as training kits and T-shirts for responsible riding pledges, outdoor advertising and program messaging and prepaid phone cards offering responsible riding tips provided by the Wisconsin Department of Transportation. Miller is also partnering with Central Beer Distributors to promote and communicate the program at the Tomahawk Fall Ride.
"Training is one of the best things a rider can do for themselves and others on the road. Our aim is to help spread awareness and encourage riders to use good judgment," said Rob Dingman, AMA president and chief executive officer. "Educational programs like Keep Your Balance are crucial for decreasing the number of alcohol-related motorcycle crashes occurring today."
"The Wisconsin DOT Motorcycle Program supports this initiative," said Ron Thompson, Wisconsin DOT motorcycle program manager. "We are pleased that Miller is incorporating the DOTs tips into the program and increasing awareness of our recommendations and initiatives." Public awareness will be sustained through web communications including a web site dedicated to the Keep Your Balance program at .