Exclusive Womens Spyder Demo Events
I love when a company puts its money where its mouth is#8212;companies that say women are an important, influential and powerful demographic in motorcycling and then do something about it. Can-Ams Spyder parent company, BRP, is holding two women-only demo events in April allowing female riders to test the new three-wheeled Spyder roadster in a very pleasant and inviting experience. Its part of BRPs Ultimate Playground Demo Tour, where customers can see and test all of BRPs products "under conditions they were meant to be enjoyed," according to Yves Leduc, V.P. and G.M. for the North American Division. "Those who take time out of their busy schedules or travel long distances expect more. We deliver that," Yves said.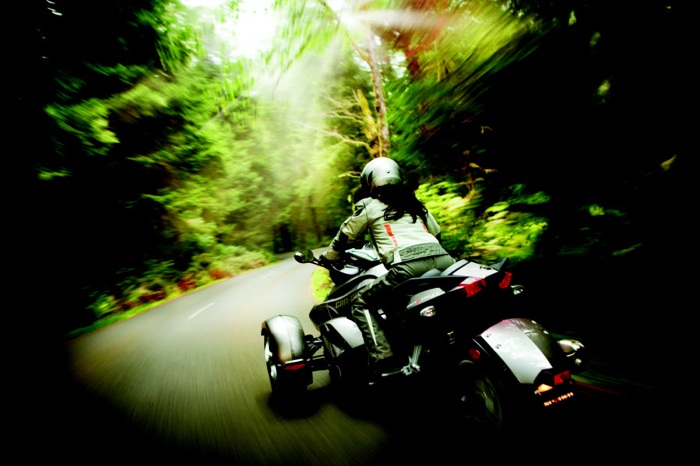 Ive ridden and reviewed the Spyder and know its something special. I encourage women to come out to one of these two special Exclusive Womens Nights demo events happening in the Phoenix area and in Southern California. You do need to pre-register so that youll be counted and catered to. Here are the event details:
– Thursday, April 7, 4-7 p.m.: Firebird International Raceway, 20,000 S. Maricopa Rd., Chandler, Arizona
– Thursday, April 21, 4-7 p.m.: Irvine Lake, 4621 Santiago Canyon Rd., Silverado, California
Pre-register at BRPDemoTour.com for your free admission ticket valued at $50. Space is limited, so dont wait. Im told there will also be a barbeque.
Sturgis Womens Ride Shaping Up
While there hasnt been any press release or official word on the details of this ride, in my January blog I shared with you the efforts of one woman, Meg McDonough, a fellow Motor Maid and a salesperson at Cowboy Harley-Davidson in Austin, Texas, whos putting together a womens ride for charity during the Sturgis ride. Her plans are to stage it on Wednesday of rally week to take place right after the Sturgis Museum Hall of Fame breakfast, where now weve learned two Motor Maids and esteemed veteran riders, Gloria Tramontin Struck and Margaret Wilson, are getting inducted.
I spoke with Meg today, as she is finalizing plans to have some heavy hitters help with the ride, including the Jack Pine Gypsies, Woody from the Buffalo Chip, as well as other key players throughout the community. The ride would go from the museum to the Buffalo Chip via Mt. Rushmore and Deadwood. The plan is that a participants minimum charity donation (amount to be determined) would also allow her to stay the evening and see that nights concert at the Buffalo Chip. And if you know anything about the Chip, the performances there each night are by big name acts.
Charities are still being determined, but one of them for sure will be the Sturgis Museum and Hall of Fame, and the other one mentioned is the Abbott House, a private treatment center for girls in South Dakota. In an interesting turn of events today, I just received an email from Brian Klock, husband of Laura Klock (land speed record holder), who is doing an outreach project at the Abbott House that was featured on the local news on Sunday. I wanted to share that video with you for several reasons. Its such an interesting project that Laura is doing there, and if the Abbott House does end up being one of the charities for the ride Meg is organizing, youll want to be a part of it. Its the perfect charity for a bunch of women motorcyclists to help out. Heres the link to the video.
New Book Seeking Female Cancer Survivors Who Ride
Tamela Rich, an enthusiastic rider who got on her first motorcycle at age 48 and embarked on a cross-country solo journey raising money for breast cancer research, will be criss-crossing the country again this summer in search of female motorcyclists whove had a brush with cancer.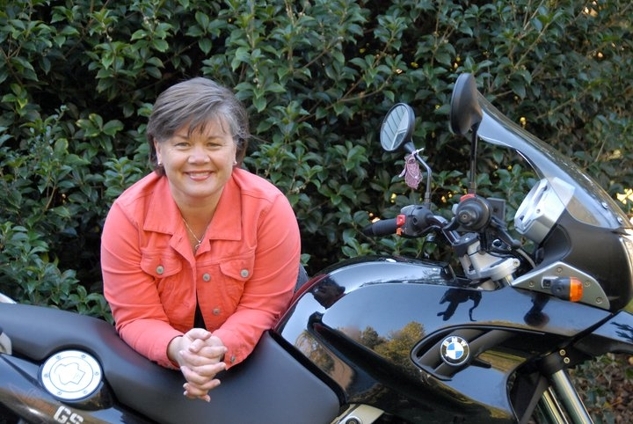 Shes putting together a new book called "Live Full Throttle: Life After Your Cancer Diagnosis." Christina Shook, photographer and author of her own motorcycling book, will be shooting the photos. To learn more about Tamelas ride and book, click here.