Activism Pays Off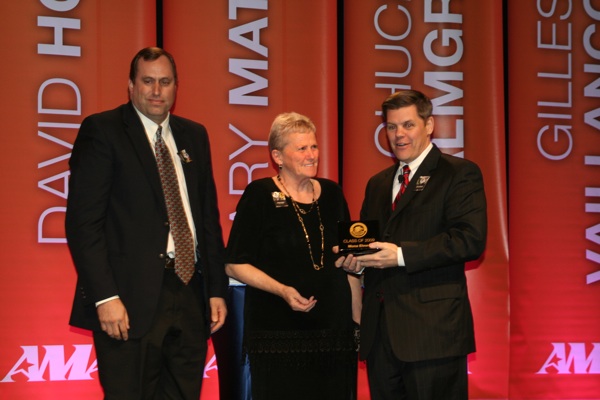 Its always a big deal when a woman is honored in motorcycling by being inducted into one of the three halls of fame in the motorcycling industry. We salute Mona Ehnes, a long-time champion of off-highway motorcyclists rights, on her induction in the American Motorcyclist Association (AMA) Motorcycle Hall of Fame in early December at a ceremony in Las Vegas. Mona charged into the fight for motorcyclists rights in 1967 when controversial legislation was introduced that would have restricted off-highway vehicle (OHV) riding opportunities in her home state of Montana. Mona has been at the front lines of the OHV rights battle ever since, as a founding member of both the Great Falls Trail Bike Riders Association and the Montana Trail Vehicle Riders Association. She remains both an active advocate and off-highway motorcyclist today, and serves as executive assistant to the National Off-Highway Vehicle Conservation Council.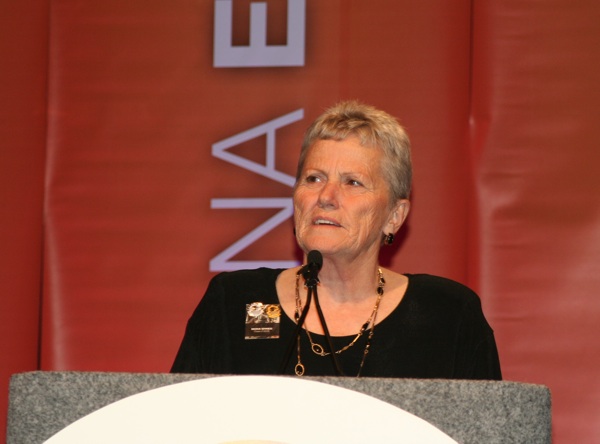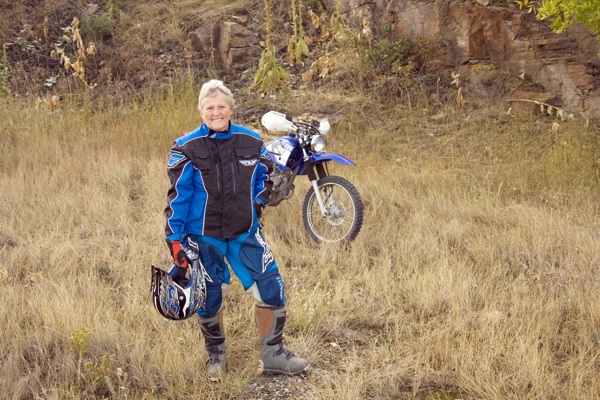 "Receiving this recognition is indescribable and is something Id never even imagined," Mona said. "I hope this encourages all the activists out there to keep working, writing letters and comments, raising legal funds, attending meetings, cutting logs, swinging polaskis and pulling weeds." Way to go girl!
The Female Perspective
Speaking of the AMA, this summer a woman was appointed to the AMA Board of Directors, the first woman on the board in 10 years. Maggie McNally, a MSF Rider Coach residing in Albany, N.Y., will represent individual members from the countrys Northeast region on the AMA Board. Maggie's appointment fills the vacancy created when a former board member was unable to complete his term. Her term expires in February 2011. The last female board member was Patty Mills representing the South Central Region. She served from 1990 until 1999.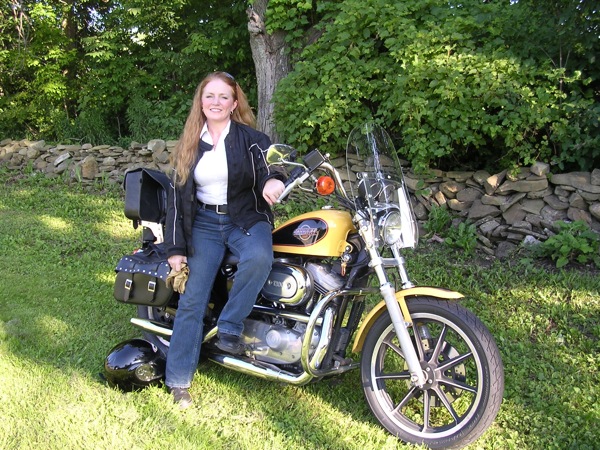 "I am thrilled to be joining a team of motorcycling giants in the joint effort to continue the promotion of the motorcycling lifestyle," Maggie said. "I look forward to bringing my personal experiences as a female rider into the mix, and hope to further the growth of female riders in all aspects of our sport. I believe the most important issues to motorcycling today are ensuring access to affordable motorcycle training programs throughout the country, the availability of the motorcycling experience to persons with disabilities, and a drive to make our sport enticing to youth of the inner city. Motorcycling is not just a suburban or rural sport anymore." McNally works for the State of New York as a voice/data communications specialist and is currently pursuing a Masters of Business Administration degree. Congrats on your appointment, Maggie!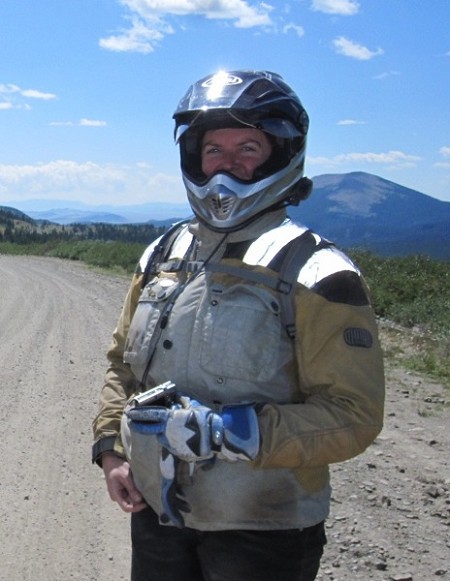 Awesome Journey
Alisa Clickenger is taking the trip of a lifetime all by herself. She is riding down to South America on her dual sport bike, a journey shes wanted to do for years. Shes made the ride a fundraiser for breast and ovarian cancer cures and has dedicated it to all those who have been affected by these dreadful diseases. You following her journey on her blog, MotoAdventureGal.com.
Alisa is no different than most of us except she dreams big and is making those dreams come true. She stopped procrastinating, quit her job earlier this year and is now living life in a big way seeing new things and experience life-changing adventures. Wow! Check out her blog and then email her, post a comment, or donate to let her know you support and are following her so she knows shes not alone on this journey. Keep strong Alisa!
Get Your Motor Runnin
For Cris Sommer Simmons, this phrase will mean a whole lot in September when she embarks on a cross-country ride on a 1915 Harley-Davidson Twin 3 Speed. She not only wants to get her motor runnin', she wants to keep it runnin' because she's taking part in the Motorcycle Cannonball endurance run, a coast to coast ride on pre-1916 motorcycles happening September 10-25, 2010.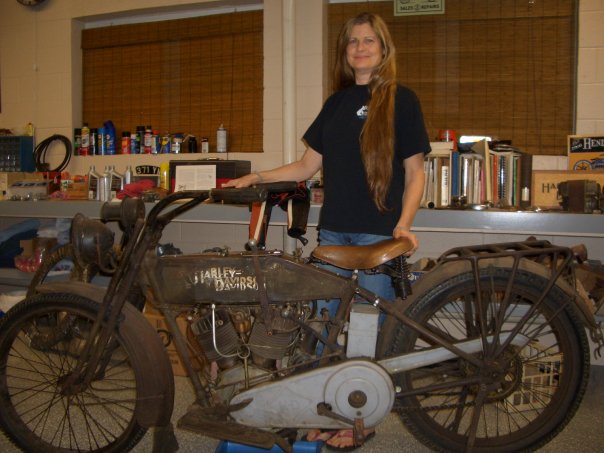 Cris reports she and her husband got the bike running after Cris was able to "kick it over." Next task is taking the bike apart piece by piece to make sure it's in riding condition. Cris says she is keeping a journal of the preparations and ride, and will film what she can of both as well. Only 50 people are allowed to enter the event. As far as she knows, there is only one other woman rider; she is from Bavaria and will be riding 1908 Triumph, which might just be the oldest bike in the race. If Cris' name seems familiar it's because she wrote the book, The American Motorcycle Girls 1900-1950″reviewed on WRN. We'll be rooting for you Cris! Visit MotorcycleCannonball.com for more info on the run.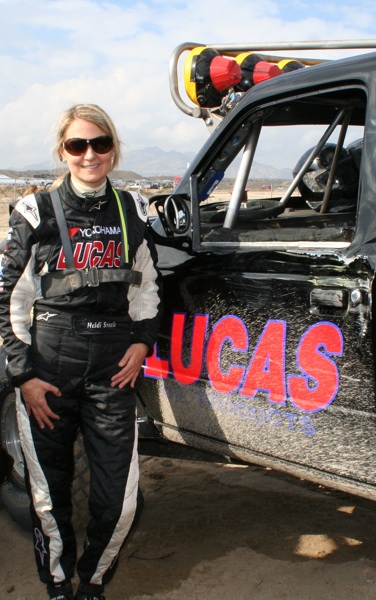 Congrats To A 4-Wheeled Winner
Heidi Steele, an off-road truck racer sponsored by The Yokohama Tire Corporation, captured her second consecutive SCORE class championship by winning the tough 42nd annual Tecate SCORE Baja 1000 in Ensenada, Mexico, in November. Heidi, who along with her team of Rene Bruger and Jamie Campbell, finished the 672.85- mile race in 20 hours, 30 minutes and 22 seconds. The win her second in the 1000 (she won it in 2005) also clinched her second SCORE title in two years. Last year, the San Clemente, California-based racer finished second in the 1000 but won the Class 7SX mid-size truck class. This time she won the Class 6 title, once again driving a Ford Ranger fitted with off-the-shelf Yokohama Geolandar M/T+ tires.
"Repeating as champion is very difficult," said Steele, "but I have a great team, great sponsors like Yokohama and a great husband who really helps and supports me. This is a satisfying win for all of us." Heidi's husband is off-road racing legend and TV announcer Cameron Steele, who finished the Baja 1000 in 8th place in the Trophy Truck class and 11th overall for all Baja competitors. Last season, Steele etched her name in off-road history by being the first woman to win two major truck championships in one season, the Best in the Desert and SCORE. She also was named Dirt Sports magazine's 2008 Driver of the Year, becoming the first female to win the coveted award. You rock, girlfriend!