Vivian rode to Baltimore; Wilmington, Delaware, Philadelphia, Trenton, New Jersey, Newark, New Jersey, then on to the Big Apple.
Women Riders Now E-Newsletter
Stay up-to-date on all things motorcycle! Latest gear, bikes and products reviews. Travel ideas, great product giveaways, and more.
Here I am folks in New York, the front door of America. I dont see how any one place could be so big. I rode and rode up 5th Avenue thinking I would never come to the end of this street. When the traffic signals would check the endless string of vehicles, crowds would quickly close in on me bombarding me with questions. "Where are you from?" "Anybody with you?" "What do your folks think?" "Have any accidents?" "How fast do you ride?" All put to the rumbling of the subways, the clanging of the surface cars, the thundering of the elevated trains and the screeching of brakes, it was bewildering, confusing to this little Geoja gal. But soon I swung into harmony with it all and ate Irish potatoes and "hard rolls" and could say "thoity-thoid" just like a sure nuf New Yorker.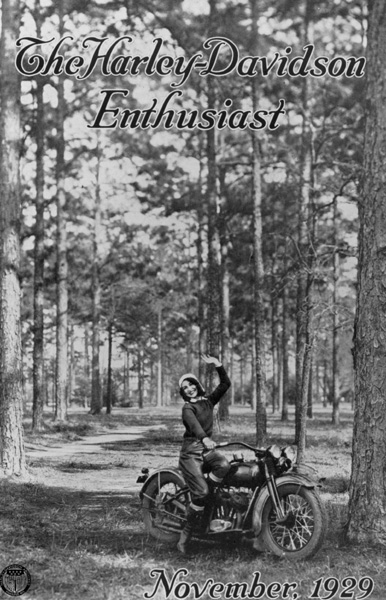 The way to Albany, New York, is beautiful along the banks of the Hudson with occasional excellent views of the Palisades. Way back in 1609 Henry Hudson explored the river which bears his name. Now in 1929, just 300 years later, I am exploring the land just as new and thrilling to me. Only I can whisk along with the speed of light, while Henry Hudson prayed for the winds to fill the sails of his ship. Again I was in open country the first time since I left Trenton. Oh, theres nothing that equals the open country, away from the hot, stuffy, crowded cities. I felt like a bird just freed from a cage.
Rochester, New York, is known for two things—Kodaks and Zimmie, the Harley-Davidson dealer. Yessir, Mr. Zimmerman, Jr. is real folks and it sure did tickle my ears to hear him talk with that good old Southn brogue. It almost made me homesick. When the morning paper came out with my picture and a long story on the front page—oh boy, what a thrill. I noticed in the cities where I got newspaper publicity folks would stop on the street and watch me ride by. Many would ask questions and wish me well on my journey. I think that motorcycling needs more favorable publicity so folks wont think it a dangerous and wild business.
From Buffalo I chose the Canadian route to Detroit. Crossing the Peace Bridge I entered Canada. My, such wonderful roads. We just flew over these ribbon-like highways. I spent the night in London, Ontario, where the chief and newspaper men made me welcome to their pretty little city. I like Canada and intend to see more of it sometime. You see Ive got the "travel bug" now!
I think Detroit is a wonderful city, the busiest manufacturing city I ever saw. And motorcars! There must be millions of them there. Harp Brothers were just grand to me showing me about Detroit and doing everything to make me feel at home. I am sorry that Mr. Ford was out of the city for I was after his autograph. Id a got it, too! Here again, I ran the gauntlet of mayor, chief and newspaper men receptions. My smile by this time was automatic, and the glare and boom of flashlights no longer frightened me. So long Detroit, were bound for Michigans capital city, Lansing. Theres no speed limit law in Michigan so I just let my 45 pal hum.
I learned something about goggles on this trip, and that is dont trust any but shatterproof glass. A bug broke one of my goggles lens, a fragment of glass getting in my right eye. A Lansing doctor extracted it, but he wouldn' take a cent from the Enthusiast Girl. Mr. and Mrs. Oscar Lenz, of the Bike Shop were in Milwaukee, but their able assistant took me in tow showing me around the city. While in Lansing I met Governor Green and came away with his autograph in my album. Yessir, and the mayors and chiefs, too.
Officer Jack Spencer escorted me to South Haven. We rolled in there at twilight on July 25. On the way over we unwound the throttles and little ol 45 moved the speedometer hand to peg number 85. I ran away from Officer Jack! I shouldnt tell that I suppose. Officer Jack is a gentleman and I want to take this opportunity to congratulate Commissioner Olander on his choice of men. For the girls who read this, I want to confess that I hated to leave lots of places, to part with many good fellows. You know how it is.
In South Haven, I spent three most enjoyable days with Miss Val Galbreath. I had been corresponding with Val for two years so we were very well acquainted before we met. The Enthusiast brought us together as it brought me many, many Harley-Davidson friends. Val rides her own Single and enjoys it, too. Oh, how I wish that there were more girls like Val, girls to take up our sport. It's really not rough like some people think, but rather it's just grand—the cleanest outdoor sport I know of. All this besides offering the most enjoyable, thrilling and economical transportation. I mean it!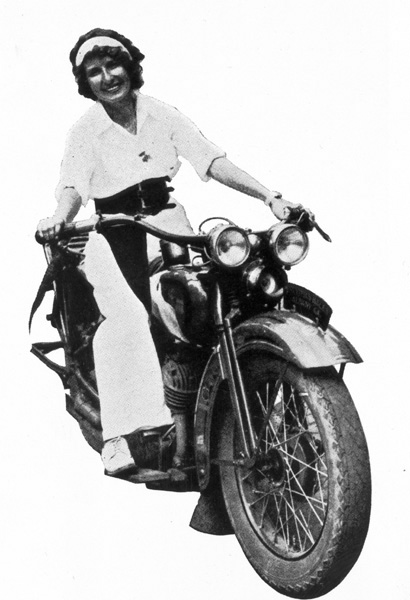 When I first wrote to Val I never dreamed of meeting her, but I learned since that this world is a small place after all. Val was the first girl rider I met since leaving home, in fact the only other girl rider I ever saw. And I wouldn't be a bit surprised if Val gets a 45. She liked mine. I'll tell you folks, it's just grand to meet a girl who understands and appreciates motorcycle chatter, not forgetting our parties, dances and heart-to-heart talks. Where do we go from here? Folks, I'm talkin' the boat across Lake Michigan tonight, and in the morning I'll awake in Milwaukee, home of my good pal Harley-Davidson. Whoopee!