A great way to get comfortable with getting your motorcycle to swing and sway thereby giving you more control over your motorcycle is to do this simple exercise. Practice swinging and swaying your motorcycle from side to side as you maneuver through this easy slow cone weave without using any cones.
The video clip shows Donna, my wife, demonstrating that back and forth swing/sway as she travels up the parking lot at speeds between 7 to 10 mph. Notice how the bike leans from side to side. With just 10 or 15 minutes of practicing this exercise, you will soon discover how much easier it is to control your motorcycle thereby making you safer on the road.
Remember, that whenever an obstacle lies directly in front of your motorcycle, even at 3 or 4 mph, it cannot be reacted to in time. The further ahead of your motorcycle you look, the easier its going to be for you to react to it.
Make sure to let the bike swing and sway from side to side as you maneuver up the parking lot. This may seem awkward at first, but by the third or fourth time you weave through the exercise, you should start to develop a rhythm.
You must keep power to the rear wheel with the clutch and throttle. Avoid going too slowly through this exercise as going too slowly will prevent you from developing the dip.
Keep head and eyes up focusing
to the end of the parking lot, and never looking down.
About the Author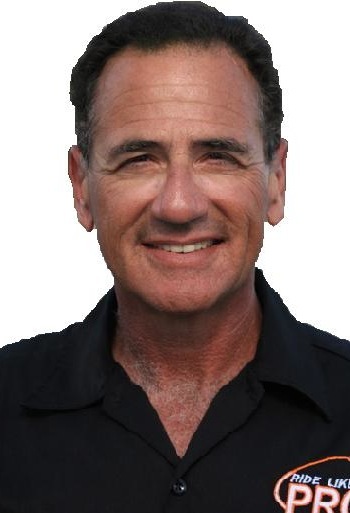 Jerry "Motorman" Palladino is the founder of Ride Like A Pro, Inc., a company that teaches advanced rider training classes, and produces motorcycle instructional DVDs and books. Jerry is a former motorcycle police officer who teaches riders the same skills that motor officers use when riding their motorcycles. His classes are aimed at experienced riders who want to enhance their motorcycle skills. Visit
RideLikeAPro.com
to learn more about the classes and to purchase and download digital copies of the DVDs. Visit the
Ride Like A Pro YouTube Channel
for more videos.

Related Stories
Avoiding Hazards
More Safe Riding Tips Stories