Motorcycle advertising campaigns are usually pretty impressive with spectacular photography, amazing lighting and scenery. They appeal to our emotional nature evoking endless possibilities of escapism, new horizons and eternal youth. For a manufacturer such as BMW Motorrad, having a sought-after product such as the legendary GS is great for business, but continuous marketing and promotion is necessary in the light of the current economic climate, as well as ever increasing numbers of cheaper imitations of course.
Many people say that the best form of advertising is "word of mouth" endorsement, and this has certainly been the case in BMW Motorrad USAs latest print advertising campaign that shows genuine BMW owners in inspiring scenarios.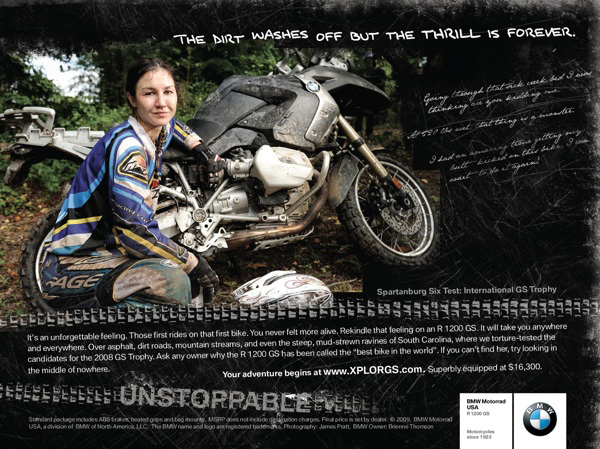 Brienne Thomson, a "20-something" dirt bike fan teaches English to international college students at San Diego State University. She currently owns a G 650 Xchallenge but is willing to ride anything including the big R 1200 GS that she rode for the GS Trophy selection trials at Spartanburg in South Carolina. (For more on this event, visit BMWHeritage.com/archives/557.)
This photograph of Brienne, which has been featured in top U.S. motorcycle magazines such as Cycle World and Rider, was taken after a day of gruelling tests and challenges, and conveys a definite sense of realism, showing rider and bike in a truly authentic setting. "This picture was taken just after our Spartanburg Six team rode, pushed, pulled and carried several R 1200 GS bikes down and through a wet creek bed, over logs and in-between trees, and then since we apparently werent destroyed enough all the way back again! I wasnt just exhausted in the picture I was beat," said Brienne. "Also, as an Xchallenge rider, my technical experience on the bigger GS models was limited, to say the least. So when I found out that wed be riding the R 1200 GS for the Spartanburg Six judgment instead of the F 800 GS, I took it as a weightier challenge…literally!"
Also featured in the series of advertisements are American GS Trophy team members Jason Adams and Jimmy Lewis.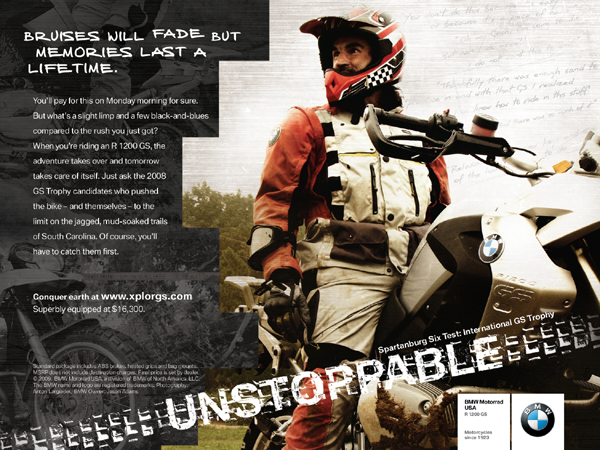 Many American BMW riders were inspired by this "real riders" ad campaign so much so that one of them created his own advertisement and sent it in to BMW. The company liked this concept so much that it decided to make a real riders template available for other BMW owners to insert a picture of themselves on their bike, add a title of their choice and then show it the world.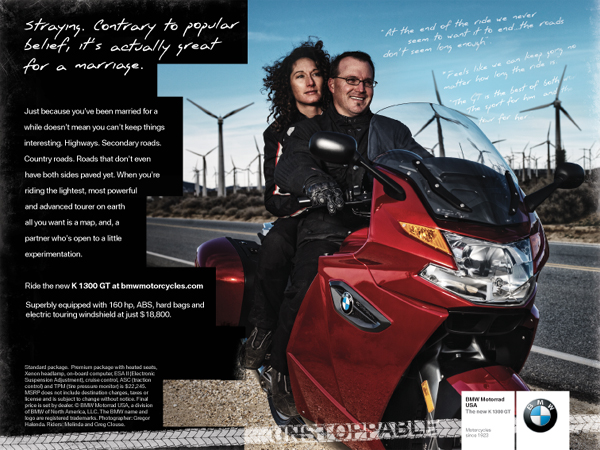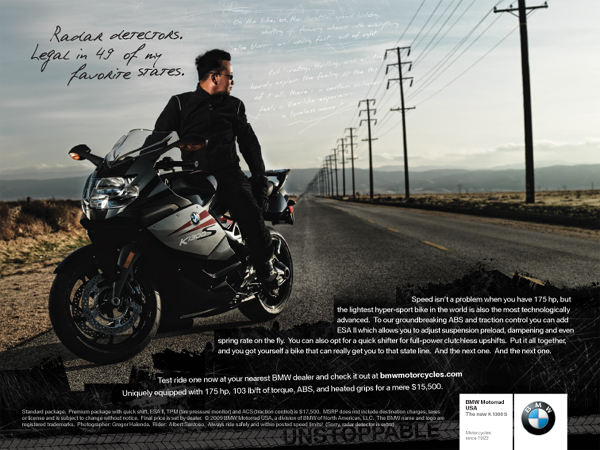 BWW and Women Riders
BMW has a history of catering its ads specifically to women. Here are two early iterations of a BMW ad featuring a woman in the riders seat, part of the "real riders" campaign. (Click on the images to make them larger.)
BMW is also releasing a women riders brochure featuring Brienne and a group of female BMW riders who all had to try out to be part of project.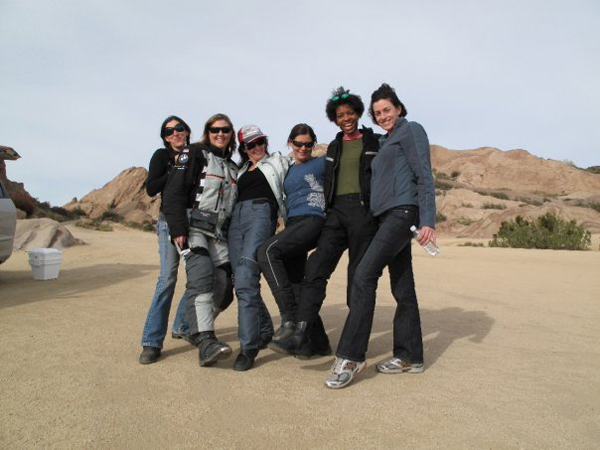 The brochure is 20 pages long and was shot in southern California. Here are some behind-the-scenes photos from the shoot. (Click on them to make larger.)
| | |
| --- | --- |
| Janice Ferrante owns Oblique Design, the advertising agency that put the whole women#39;s brochure together. | Polly Penna is Janice#39;s partner at Oblique Design, shown here on her Ducati Monster. Both women are riders so it was easy for them to communicate the message of this women riders brochure. |
The BMW Women Riders brochure is available now at BMW dealerships.
Related Articles:
REVIEW: BMW G 650 Xchallenge