Two helmets and a leather jacket autographed by many of the biggest stars in motorcycle road racing are up for auction on eBay. Proceeds for these one-off collectables will benefit a variety of AIDS-related charities. The eBay auction, which includes nearly 200 items in all, is part of the Macys Passport 2007 fashion shows in San Francisco, Sept. 18-20, and Sept. 27-28 in Santa Monica, Calif. Now in its 25th year, Macys Passport has raised $25 million for HIV/AIDS research, care, prevention and education.
"These are all great collectors items and we hope there will be some generous bidders from within the powersports business," said Tim Buche, Motorcycle Industry Council president. "This is one part of Discover Todays Motorcyclings (DTM) expanding partnership with Macys, one of the biggest, most famous department stores in the world. Its a privilege to participate with Macys in this historic charity effort. And DTM is again keeping motorcycling in front of the fashion world, putting bikes before a wide audience ranging from youth to business executives to Hollywood celebrities. This benefits everyone in our industry, too." 24

Current, past and potential future world and AMA champions added their signatures to the three items now posted on eBay and available for bid until Wednesday, Sept. 26. They are: an AGV helmet, signed by seven-time world champion Valentino Rossi; an Arai helmet, signed by reigning world champion Nicky Hayden and current MotoGP points leader Casey Stoner and other stars; a Dainese jacket, signed by three-time world champion Wayne Rainey, six-time AMA Superbike champion Mat Mladin, two-time AMA Superbike champion Ben Spies, plus other great heroes of the sport.

The Ti-Tech Evolution motorcycle helmet, donated by AGV and signed by Rossi, has a suggested manufacturer retail of $650. It includes an acrylic display case. The helmet was taken to the July 2007 MotoGP race at Laguna Seca where it was signed by Rossi at Yamahas Monterey Bay Aquarium event.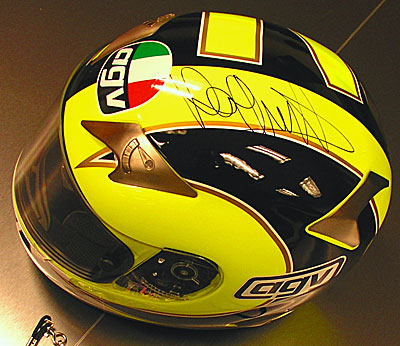 To view this item, click here.

The autographed Dainese motorcycle jacket, with a manufacturers suggested retail of $429, also was taken to Laguna Seca this year and comes with a commemorative MotoGP hat from that race. Click here to view this item.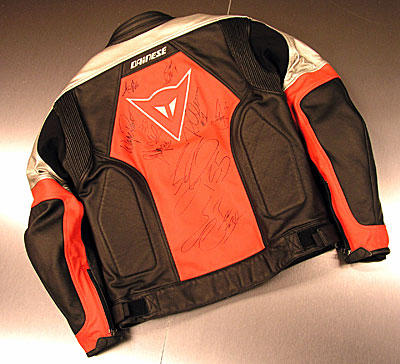 The Arai helmet is an RX-7 Corsair, with a manufacturer suggested retail price of $619 and it also comes with a display case. Discover Todays Motorcycling arranged to have this helmet signed by riders at Paramount Studios in Hollywood, during the premiere of the new MotoGP documentary "The Doctor, the Tornado and the Kentucky Kid." Click here to view this item.

New items will be listed on eBay every few days throughout September. For more information about Macys Passport 2007 visit ebay.com/macyspassport.

Besides providing the auction items, DTM also is showcasing motorcycles in the receptions for each of the fashion show evenings and passing out information cards among the thousands of guests. DTM is included in Passport advertisements and promotions, and DTM staff will be providing "how-to-get-riding" presentations inside Macys stores in San Francisco (Union Square) and Costa Mesa, Calif. (South Coast Plaza). And DTM is donating a new motorcycle for a live auction at the Sept. 27 Los Angeles Passport show, where guests can bid to win either a Honda Shadow Spirit C2 cruiser, Kawasaki Versys 650, Suzuki GSX650F or Yamaha FZ6, along with a complimentary Motorcycle Safety Foundation RiderCourse, plus two tickets for the AMA Supercross in San Francisco next year.

Discover Todays Motorcycling is the communications service bureau of the Motorcycle Industry Council and a source of information about motorcycling to the media and the general public. The MIC, located in Irvine, Calif., is a not-for-profit national trade association representing manufacturers and distributors of motorcycles, all-terrain vehicles, scooters, motorcycle parts and accessories, and members of allied trades.