In September we brought you news of the
2013 motorcycle releases
that will appeal to many women riders. Now four more manufacturers have introduced new motorcycles or added upgrades to bikes that we think women will want to know about.
Star Motorcycles V Star 1300 Deluxe
Touring motorcycles are all the rage these days, but for many women the size of those bikes is just too big. Enter the new V Star 1300 Deluxe, based on the midsize V Star 1300 platform. It comes with color-matched lockable hard saddlebags that hold 7.6 gallonseachfor plenty of packing room.
The V Star 1300 Deluxe sells for $13,690.
Why should this bagger appeal to women riders? A relatively low seat height of 27.2 inches, a smaller-than-average size, and the bikes easy handling around town and in slow turns and stop-and-go trafficare just a few reasons.While the Deluxe may be smaller than your average touring motorcycle, it boasts many of the same features found on those bigger bikes. A fork-mounted fairing and windshield keep wind at bay, while the fairing houses an integrated in-dash navigation system with a waterproof Garmin zumo 665 that is XM satellite radio and Bluetooth wireless capable. An audio system with iPhone/iPod compatibility has left-handlebar-mounted controls.
The V Star 1300 Deluxe is available in one color only, the Deep Blue color pictured above. Visit
StarMotorcycles.com
for more information.
Yamaha FZ8 and FJR1300A
Women who prefer sport riding and sport-touring riding will appreciate upgrades to these popular models in Yamaha's 2013 lineup. First, the 467-pound FZ8, with its 32.1-inch seat, gets an updated suspension. The shock on previous models was adjustable for preload only, but the updated 2013 model gets fully adjustable preload and rebound damping, plus fully adjustable fork with spring preload, compression and rebound damping. Revised fuel-injection settings and a more visually appealing muffler complete the package. The 2013 Yamaha FZ8 is available for $8,890 in Matte Gray/Black.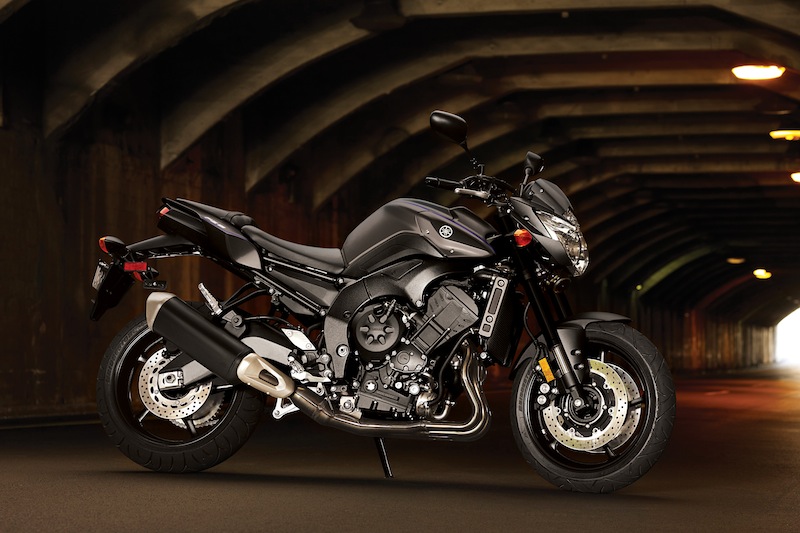 If you like riding through the canyons and want to keep on going for long distances, the Yamaha FJR1300A is ideal, as its a bigger bike with lockable saddlebags. The FJR receives extensive cosmetic and electronics updates for improved touring capability, including a height-adjustable seat (31.7 or 32.5 inches), adjustable handlebars, an improved electric windshield, front and rear suspension settings, and an instrument cluster with easy-to-read panels.
The 637-poundFJRsport tourer also gets a Yamaha Chip Controlled Throttle (YCC-T) for drive mode selection—sport or touring—that moderates throttle response. Traction control, heated grips and cruise control come standard. The 2013Yamaha FJR1300Ais available in Stone Grey for $15,890. For more information, visit Yamaha-Motor.com.
Ducati 20th Anniversary Monsters
Happy anniversary to the Monster! Ducati is celebrating two decades of producing its iconic, racy and nakedair-cooledL-Twin-cylinder hooligan. The Monster already has a strong female following, and with celebratory color treatments and special 20th anniversary upgrades to the 696, 796 and 1100 EVO, perhaps more "Ducatisti" will be born. And its Italian!
From left: the Monster 696, Monster 796 and Monster 1100 EVO. With standard red paint and a distinctive trellis frame, the Monsters look very similar despite engine displacement differences. The 796 and 1100 EVO have single-sided swingarms, while the 696 has a dual-sided one. Some other differences: the 100-horsepower 1100 EVO's exhaust pipes are located on one side, it has an upgraded fork, and the seat has red stitching.
The three anniversary bikes get Ducati red bodywork, bronze trellis frames, gold-colored brake calipers, master cylinders, and (how clever for an anniversary!) champagne-colored forks. Ducati has transformed the mirrors (metal instead of plastic) and seat fabric to a 1993 style reminiscent of when the Monster first appeared, and a retro font is used for "Ducati" on the tanks and model name on the seat covers.
Both the Monster 696 and Monster 796 will attract women riders who want a user-friendly sportbike that handles easily and offers power in an instant. The entry-level Monster 696 weighs in at 408 pounds and has a 30.3-inch seat height, while the midrange Monster 796, also with a30.3-inch seat height,weighs in at 412 pounds. These two smaller-displacement Monsters have optional ABS, while ABS and four-level Ducati Traction Control (DTC) come standard on thethe 1100 EVO. The latter sports a 31.9-inch seat height, the latest generation exhaust system, a Marzocchi front suspension, a refined tail end, and a weight of 414 pounds.
The stripped-down Monsters have minimal instrumentation, but everything else on these bikes screams maximum fun. The Ducati 20th Anniversary Monsters are priced $500 more than regular models, so base price for the 696 is $9,295, while the 796 is$10,495 and the 1100 is $11,995. Visit
DucatiUSA.com
for more information.
Can-Am Spyder ST
Women comprise 30 percent of Can-Am Spyder sales, as the three-wheeled Roadster is perfect for women who want to get their hair in the wind but are skittish about two wheels. For 2013 Can-Am is introducing the new Spyder ST, a sport touring model that fills the gap between the sporty RS and the touring RT.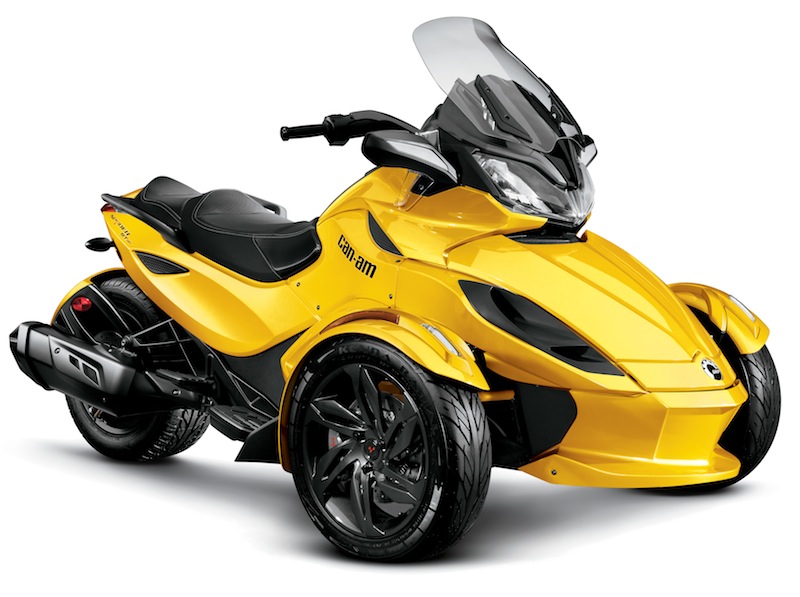 The 998cc fuel-injected ST comes in three variations—the base ST, the ST-S, and the ST Limited. The ST-S hascosmetic upgrades, rider floorboards instead of pegs, and more aggressively styled fenders with integrated LED lighting. The ST Limited has lockinghardsaddlebags that add 18 gallons of storage to the ST's existing 12-gallon upfront storage capacity. And if you're traveling with a husband who refuses to stop to ask for directions, the Garmin GPS with Bluetooth capability will get you back on track while you listen to music through the audio system with an iPod cable. Handwarmer grips keep your digits toasty, while your tush stays comfortably nestled in the embroidered seat.