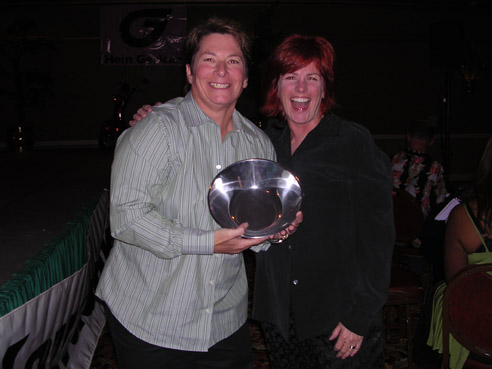 Jan Plessner (left) the public relations manager of Kawasaki Motors Corp. was honored with the 2005 Womens International Motorcycle Association (WIMA) USA Image Award. Alice Sexton, president of WIMA USA presented Plessner with the award during the Femmoto demo-track day event in Las Vegas.
Plessner is being recognized for her success in bringing the importance of women riders to the attention of Kawasaki as well as the industry as a whole. "It was great to have everyone I respect and care about right there to share the experience," says Plessner upon accepting the award in front 150 female motorcyclists. "I love the powersports industry and I am fortunate to be working for such a leading-edge company."
The WIMA USA Image Award is presented to women dedicated to the sport of motorcycling and who pave the way for future generations with their positive attitudes. Past recipients of the award are professional roadracer Vicky Jackson-Bell in 2004 and stuntwoman Debbie Evans in 2003.
The United States Division of the Womens International Motorcycle Association (WIMA USA) is part of the worlds largest international association for women motorcyclists with more than 3,000 members in 20 countries. The vision of WIMA USA is to change the face of motorcycling by advancing women and girls in the sport and in business and by helping the industry grow. Visit