Honda Motor Co. is entering the automatic transmission motorcycle market with the debut of its Human-Friendly Transmission (HFT), a new automatic transmission system for motorcycles using Hondas own infinitely variable hydraulic mechanical transmission. According to a Honda press release, the HFT transmissoin is easy to operate realizing outstanding relaxed riding comfort and riding feel with direct response as well as excellent transmission efficiency.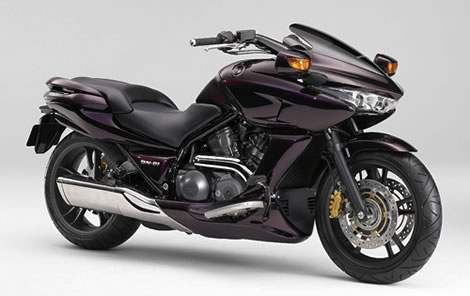 The HFT will be installed on the DN-01, a new motorcycle to be introduced at the 40th Tokyo Motor Show taking place October 26 through November 11. With Hondas own infinitely variable hydraulic mechanical transmission, this HFT realizes the lightweight and compact configuration required for motorcycles.
To meet a wide range of rider needs, HFT offers a selection of two fully automatic shifting modes: D mode for ordinary riding and S mode for a sporty riding experience, or the 6-speed manual mode giving riders the option of riding with a manual transmission feel. The HFT creates a unique riding feel through easy operation, ranging from relaxed and laid-back riding to nimble and sporty with direct throttle response.