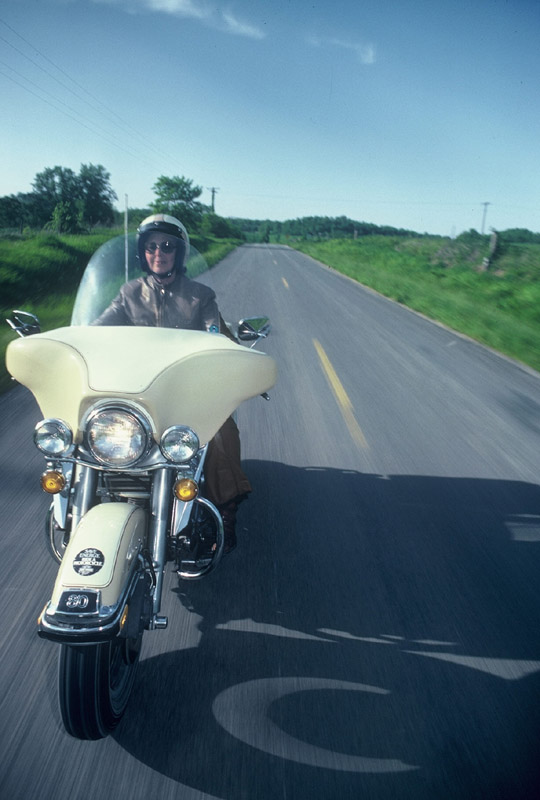 When she appeared on The Tonight Show with Johnny Carson in May 1979, Hazel Kolb (pronounced "cob") was the picture of happiness and contentment. Here was this 53-year-old grandmother, halfway through riding her 80-inch Harley-Davidson Electra Glide around the perimeter of the continental United States, alone, and the significance of this national television exposure was not lost on her. "Next to the birth of my kids," she would later say, "it was the highlight of my life."
Women Riders Now E-Newsletter
Stay up-to-date on all things motorcycle! Latest gear, bikes and products reviews. Travel ideas, great product giveaways, and more.
In 1979, Hazel Kolb (who called herself "The Motorcycling Grandma") did her "80 Days on an 80" ride to the four corners of the United States to honor the memory of her late husband, Jack, and for the good of motorcycling. The fact that she appeared on the highest rated nightly television program of the 70s spoke volumes about her guts, determination and drive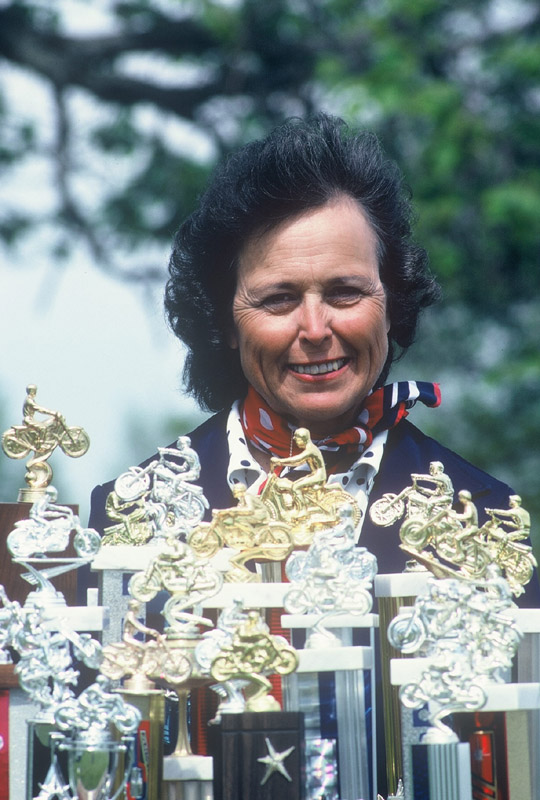 "I do not have any truly happy memories of my childhood," Hazel said in her autobiography, On the Perimeter, which I co-wrote with her in 1982. She grew up in depression times and her family was poor. She often fought with her brother, Tom, who was six years older, and her parents marriage "was not always the smoothest."
In her senior year of high school, Hazel was hospitalized for several weeks with an enlarged heart. When she was released, brother Tom showed her his new Harley-Davidson. Hazel went on her first motorcycle ride. In a fit of joy she declared, "Someday, Im going to ride my own motorcycle to California!" Life turned better soon after, and Hazel was crowned "Miss Hannibal" in 1941, after the town of Hannibal, Missouri, where she grew up.
During World War II she married a wounded veteran named Cebern. Hazel was pregnant with her fourth child by 21. While Cebern worked for the railroad, they opened a store and restaurant that Hazel ran all while raising four kids. Cebern was jealous and overbearing. When Hazel went out with a couple women friends to a movie once — with her husbands permission — she returned home to find that he had nailed the front door shut. Another time they went to a club where Hazel danced with another man. Cebern later burned the dress she wore that night.
When Cebern left the railroad to tend their store he became even more possessive, demanding and oppressive. Running the restaurant, cooking and waiting tables, and raising children all while dealing with Cebern became too much for Hazel. To save her own sanity, she left him and the four children she dearly loved.
Eventually Hazel met and married Jack Kolb, a farmer, and was able to reestablish a loving relationship with her children. Jack acquired a 1967 Harley-Davidson Electra Glide in a business deal, and soon he and Hazel were avid riders. Among their most cherished times in the short years they had together were a ride to California and the redwoods in 1968, then a 5,000-mile ride to Alaska two-up in 1969. Hazel got the bug to ride and soon, she and Jack were riding together on their two Harleys.
In 1972, while in his early 40s, Jack had a serious heart attack. With strict attention to diet and exercise he largely recovered. They regarded it lightly, and took a second trip to Alaska in 1973. The next year things began to unravel. During a ride to Mexico in 1974, Jack extended himself too much. His failing health prevented him from finishing this trip; he had to be flown home. It was the beginning of the end. In October of 1975 Jack Kolb, the joy of Hazels life, died of heart failure. He was just 46.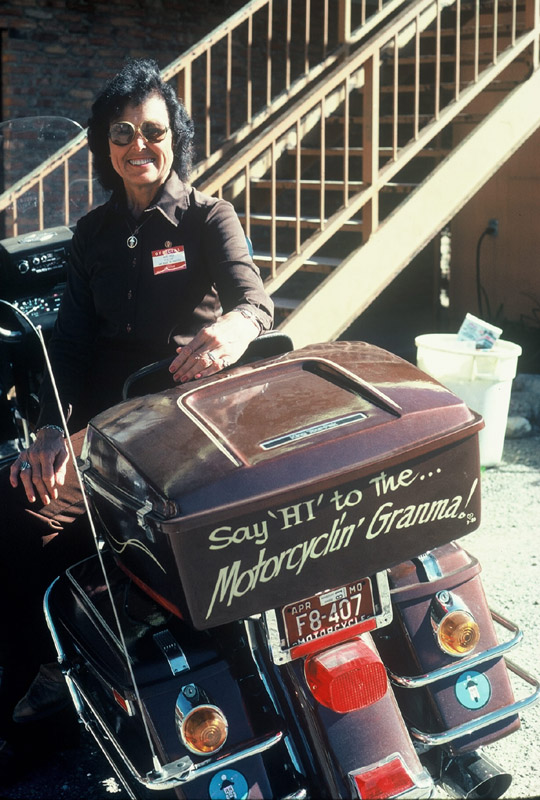 The idea for the Perimeter Ride came from Hazels desire to give something back to motorcycling, and to honor Jacks memory. It didnt matter that she had undergone a hysterectomy that December, it was now April of 1979 and she was ready. This grandmother headed for Maine alone on her Harley, determined to ride the entire perimeter of the United States.
With her disarming homespun manner and some publicity help from Harley-Davidson, Hazels story soon outgrew her. Whenever a feature would appear on TV or an article in a local paper, another reporter would soon contact her "Harley Hot-Line" and arrange for an interview. Such interviews became a regular part of her daily ride, and eventually leading to major appearances on Good Morning America and The Tonight Show.
One of the highlights of Hazel's ride was crossing the border into "The Golden State," and realizing the dream expressed to her brother Tom so many years before: "Someday, I'm going to ride my own motorcycle to California!" By the time she finished the Perimeter Ride, Hazel Kolb had ridden 14,464 miles, granted dozens of interviews reflecting well on both motorcycling and her late husband.
Hazel Kolb passed away from cancer in 1990, and her autobiography is out of print. However, the legacy of this pioneer is secure. For her contributions to the sport she loved, the American Motorcyclist Association inaugurated the Hazel Kolb Brighter Image Award in 1987 to honor those who generate significant positive publicity for motorcyclists and motorcycling. Recipients of the award include Jay Leno, Malcolm Forbes and The Motor Maids.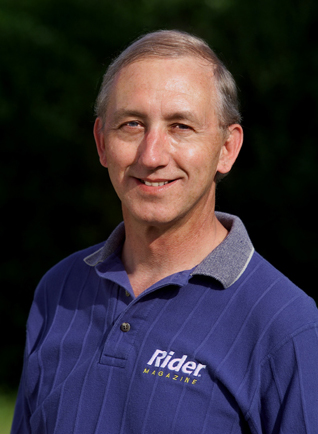 About the Author:
Bill Stermer is a freelance writer whose work regularly appears in Rider, American Rider, Cruising Rider, Powersports Business and V-Twin magazines. He became a motojournalist when he joined Cycle magazine in 1978. His first book, "Motorcycle Touring," published in 1982, was a how-to for the touring rider. "On the Perimeter," published in 1983, was the autobiography of Hazel Kolb, which he did for Harley-Davidson. After three years as editor of the trade magazine Motorcycle Industry, Stermer's touring background led him to Rider magazine in 1990. That same year his third book, "Motorcycle Touring and Travel," was published by Whitehorse Press. A second edition was published in 1998. His fifth book, "BMW R100RS," was published in 2002; his sixth, a handbook for street riders, is due out in the Spring of 2006 from MBI Publishing/Motorbooks, Intl.