Genevieve Schmitt, founder and editor-at-large of Women Riders Now, will be inducted into the Las Vegas Motorcycle Hall of Fame onOctober 6, during Las Vegas BikeFest, Oct 5–8.
Other 2017 inductees include actor Peter Fonda, motorcycle builderArlen Ness, and magazine editor Dave Nichols.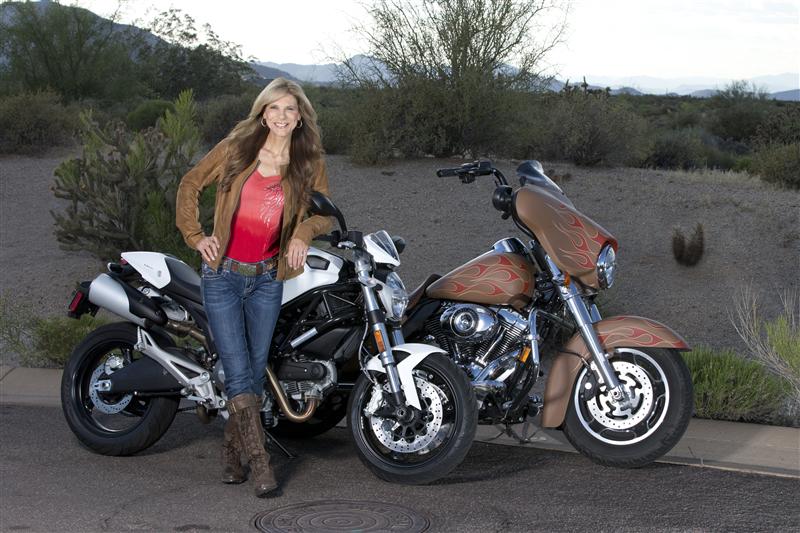 Genevieve is considered one of the leading influencers inwomen and motorcycling today. Over the more than two decades that she has been working fulltime as a journalist and publisher in the motorcycle industry, she has writtenarticles and given speeches that have inspired thousands of women to ridemotorcycles.
Women Riders Now E-Newsletter
Stay up-to-date on all things motorcycle! Latest gear, bikes and products reviews. Travel ideas, great product giveaways, and more.
"I am extremely humbled by this recognition of my work inthe media that brings attention to the women's motorcycling community. All theglory goes to God for giving me the talent and inspiration; to the riders, women and men, whoread my articles; and to the powersports companies that have supported myefforts over the years", said Schmitt.
She adds, "This honor comes at a pivotal time for Women Riders Now, the online magazine I started in 2006, as we have added a new editorial and management team to lead operations at Women Riders Now, while I take a step back and focus on the things I love like test riding motorcycles, and writing more stories. Im excited about the future of Women Riders Now and all the opportunities ahead of us as we continue to lead the way in delivering motorcycling news, reviews, and information from a female and lifestyle point of view."
This is not the first Hall of Fame induction for Schmitt. In 2001, she was inducted into the Sturgis Motorcycle Museums Hall of Fame for her work focusing on women in motorcycling back then. At the time, she was working as editor of Woman Rider magazine, a national print publication she conceived where, for the first time readers could see on the pages of a professionalmagazine, women of all ages riding any brand of motorcycle. Over theyears Schmitt has contributed articles to nearly every motorcycle magazineproviding one of the early female voices in motorsports journalism.
"Genevieve is a pioneer in the industry, hobby, and sport ofwomen motorcycling. She has reached beyond the stereotypes and has broughtfemale riders to the forefront,"said Mindi Cherry, Vice President and Event Manager of Las Vegas BikeFest. "As the fastest growing demographic of newriders, Genevieve has shown that women can have the same amount of passion andenthusiasm for motorcycle riding as any man."
Las Vegas BikeFest, in partnership with Branscombe Richmond,launched the Las Vegas Motorcycle Hall of Fame at the 2016 rally. "The Hall ofFame is designed to honor the iconic ambassadors, influential heroes and peoplewho put their interests above and beyond for the motorcycle community. Thishonor celebrates, illuminates and preserves the rich tradition of motorcyclingin America", said Cherry and Richmond, curators of the Hall of Fame.
Related Articles
Sturgis Hall of Fame Inducts Two Women
Read about WRN in the News