In the first few decades of the Twentieth Century, the roads made motorcycle touring a rugged sport. Before concrete interstates and blacktop secondary roads, most roads were dirt or gravel trails. Venturing far outside the city required a flair for adventure, a lot of stamina and a rugged machine. The fact that men ventured forth under those conditions was unquestioned, but for the women to do the same caused a great deal of attention, because of their presumably passive role.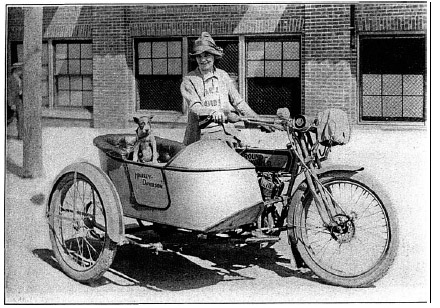 Even among these exceptional female motorcycle pioneers, some stood out… like a Waco, Texas, woman named Della Crewe. On June 24, 1915, she set out to see America by motorcycle, after rejecting both the train and steamship as being not only too expensive but also uninteresting. With only 10 days of riding experience on her 1914 Harley-Davidson V-twin, she filled her sidecar with 125 pounds of baggage, including her dog, appropriately named Trouble, and began her tour. Despite warnings from friends that she would get held up by hobos or kill herself in an accident, she wanted the freedom and mobility offered only by a motorcycle.
Her first destination was the July 3 motorcycle races in Dodge City, Kansas. With todays modern roads it would be a one or two-day trip but things were different in 1915. An extremely wet winter and spring made roads across Texas and Oklahoma badly rutted mires of mud and sand. And if that werent enough, there was the added danger of hidden stumps, logs and rocks in the so-called roads. All those miles of sand beds and rugged hills took their toll on both the rider and the motorcycle.
Despite a collision with a stump which knocked her sidecar out of line, Della made it to the paved streets of Oklahoma City without a major mishap. The 75 miles of macadam in the city were a welcome relief to Della, but upon entering Kansas, heavy rains made the roads such a quagmire she had to install tire chains. Finally, even chains couldnt provide enough traction and with Trouble in the sidecar, Della struck out through four miles of Kansas wheatfields before finding a usable road. She made it to Dodge City in time for the race, one of the premier motorcycle events of the time.
Deciding to head to New York and see the country along the way, the pair headed north through the beautiful scenery of Missouri. With good weather and fine roads, they made good time as they raced up one hill and down another. After a 15-cent ferry ride across the Mississippi River, they were into Illinois and more hills. The trip to Chicago and then to the Harley-Davidson factory in Milwaukee was comparatively quick and uneventful.
After leaving Milwaukee, they headed south through Chicago and into Indiana where authorities stopped her twice because of the dog. There was a quarantine in Indiana because of hoof and mouth disease and Della had to promise that her dog wouldnt leave the sidecar before they could proceed. Nevertheless, upon arriving in Goshen, Indiana, they were invited to participate in a local parade giving them the opportunity to see the city.
Having spent the summer and fall months heading north and then east, the travelers ran into cold November weather in Ohio, an indication of what was ahead for the rest of the trip. Bitter cold forced a three-day layover in Toledo and the ride around the southern edge of Lake Erie turned into a snowy one as they approached Cleveland. Traveling northeast up the coast toward Painesville, Ohio, the drifting snow sent the motorcycle into ditches several times. Eventually they were forced to seek shelter at a farmhouse. The farmer refused her request at first, with the excuse that she didnt belong on the road in that kind of severe weather. Fortunately, the farmers wife was the boss of the house and Della soon found herself drying her clothes before a warm fire.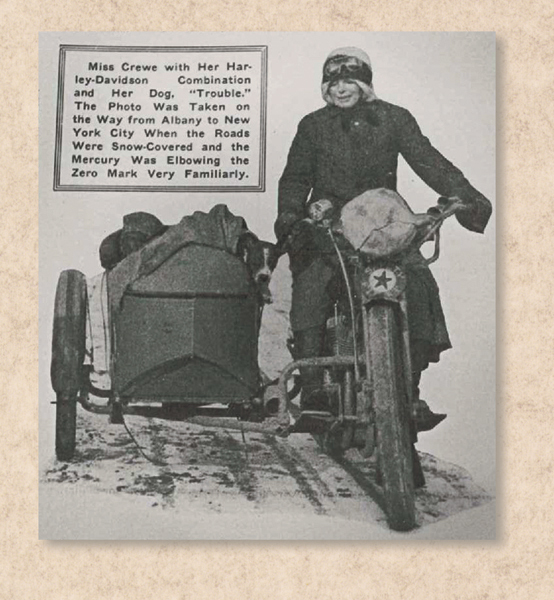 On Thanksgiving day, Della and her canine partner were back on the road again. Thawing snow made the roads so bad it took them two hours to travel 2 1/2 miles to the nearest town. Several times she needed the help of the local farm boys to free the motorcycle and get it rolling again. While a number of solo motorcyclists were forced to lay over and wait for better conditions, Della was thankful that the stability of a sidecar allowed her to continue.
Crossing the corner of Pennsylvania, the pair entered New York State. Approaching Buffalo, they had to sturggle through nine miles of sticky clay which clung to everything and clogged the wheels. Physically spent, Della had to hire a farmer and his horse to pull them the last mile.
Thankfully, the ride across the state was easy. However, bitter cold and heavy snow returned to haunt them and they left Albany making the trip to their long-sought destination of New York City a rugged two-day journey.
From Waco to Milwaukee to New York City with numerous side trips, Della and Trouble logged 5,378 miles and their motorcycle performed flawlessly. As Della stated after completing the journey, "I had a glorious trip. I am in perfect health and my desiere is stronger than ever to keep going."
A few days later Della Crewe, Trouble and their 1914 Harley-Davidson twin with sidecar sailed for Jacksonville, Florida, with plans to tour the South, Cuba and South America.