On the July 21st Saturday edition of the NBC Today Show, the Chopper Chick Crew will reunite for another charity bike build this time to build a motorcycle in the heart of New York City at Rockefeller Center, right outside the NBC studios. The bike will be a kit that was donated by Bikers Choice and will put the women to the test again with a live audience watching. The Chopper Chick Crew did their first live build in front of an audience at Daytona Bike Week in March.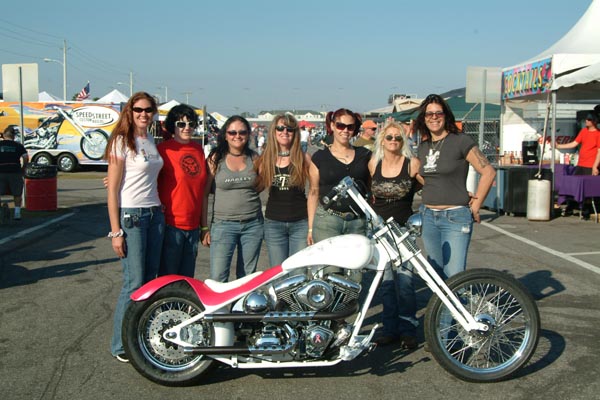 The completed bike will be auctioned off with proceeds going to the Boys and Girls Club of Broward County (Florida). The bidding for the bike will begin on July 21 and end in December where the winning bidder will be announced at the Seminole Hard Rock Hotel and Casino during the annual Bikerbash celebration.
The Chick Crew consists of Athena Ransom of Vagabond Chopper Co., who has been around motorcycles her entire life and riding since she was seven; JoAnn Bortles of Crazy Horse Painting, an award winning painter whose work has been featured in magazines such as Easyriders, Ironworks, and American Iron; Jayme Gray from Pussycat Choppers, an avid motorcyclist with a degree from MMI and extensive V-Twin experience; Katie Putnam from Mitch Bergeron Custom Cycles, another MMI degree holder with tons of mechanical experience; Kate OShea of Manatee River Harley-Davidson, an MMI graduate and builder; and Vivian "Gypsy" Charros of Gypsy Highway Custom a self taught builder and Discovery Channel Biker Build Off winner. Jena Lewis of Vagabond Chopper will be along as the "the transport chick."
"We are very excited to be building this bike in Rockefeller Cenber and have it auctioned off with the proceeds going to the Boys and Girls Club. I believe that the Chopper Chick Crew as a whole has the opportunity to show the public that women have broken away from traditional roles. We are very proud of the work that we do and that will be evident in the finished bike," said Athena Ransom of Vagabond Choppers.