Spring has sprung. Love is in the air. And finally, bikes are everywhere! The economy may be suffering, the motorcycle industry may be feeling the effects, but the simple pleasure of riding a motorcycle has always been an economical mode of travel and entertainment. And when the stress of the world piles up along with the unpaid bills, what better therapy, or break from the madness, is there than riding on sunny spring days in the local hills?
For years now it has seemed as if the world of motorcycles was more focused on builders and industry, and what happens to the motorcycle inside of the garage. Every time I look out into my garage, my motorcycle is not "doing" anything. Its just waiting for me to ride! Here in southern California, we only have about two months of rain or cold weather, but I could swear my bike shares my pent up winter energy just waiting for that perfect spring day to come along so we can get back out on the road. I remember growing up in Minnesota, and the first spring day of sunshine was an actual celebration. It didnt matter if it was only 50 degrees on Lake Superior, we would still play hooky and lay between the huge rocks on our little beach towels trying to hide from the brutal winds to soak up those first rays. In the movie "Bambi," they call that spring energy in the air being "twitterpated."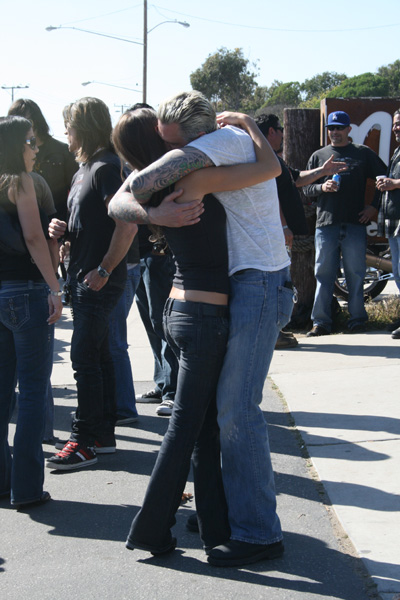 Well the hills in Malibu have been twitterpated all month. The mood is alive in the air everywhere. I am glad to see the return to the love of the road. Even famous celebs and builders were riding the local hills and chilling out at popular motorcycle hang outs like the Rock Store, Neptunes Net, and the Sagebrush Cantina. As I was leaning around the hairpin turns winding up Mulholland Drive from the Rock Store, Jay Leno went flying past me going the other direction. He was in a classic hot red old convertible race car. The coolest part about seeing Jay tearing it up was the huge, silly smile I could see on his face, even in the short two seconds I got a glimpse of him whizzing by. It was apparent that the guy just loves riding those roads.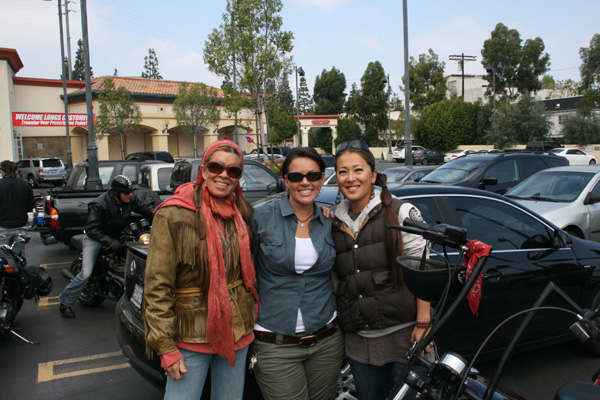 Weve been having free-for-all rides that is mixing big groups of friends from all walks of life. We all have different riding ideas and styles, but it doesnt much matter. We meet for Starbucks or Jamba Juice, and then head on up into the hills. Its a little unorganized and chaotic, but if youre going to follow the girl with the license plate that says Calamity, well then, enjoy the chaos!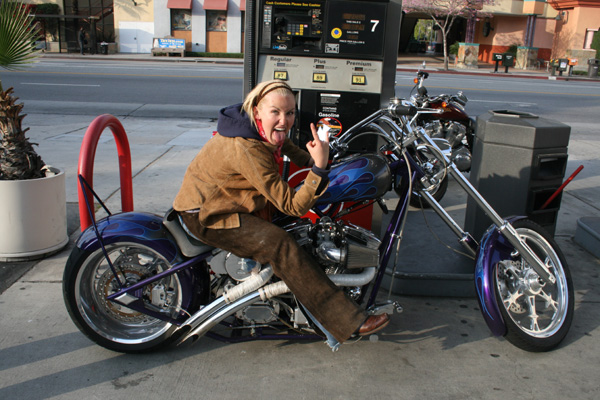 My little sister sent her friend Laura from Minnesota to join in on one of our rides. Laura and her San Diego girlfriends work at One Eyed Jacks at some of the rallies, and just started their own line of chaps called "Cheeky Chaps," (CheekyChapsCA.com). She told me over the phone that they would be wearing their new line of clothing, and I tried to explain that the Malibu Hills were not so much like being in Sturgis or Daytona, but they showed up barely legal anyway and gave the boys something to smile about wherever we went.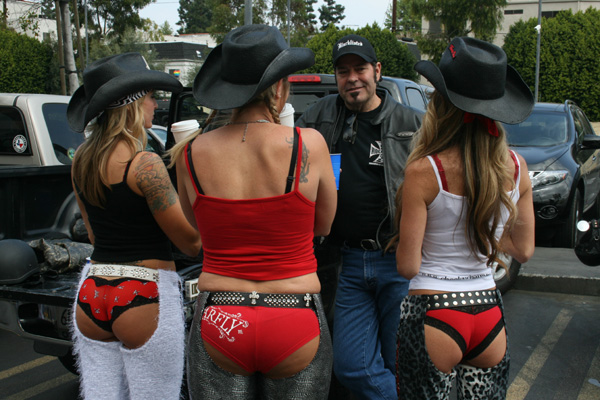 As we were enjoying our morning juice, actor Eric Estrada from the old TV series "CHIPS" had to outdo our motorcycles by pulling up in his sleek black Rolls Royce. I yelled, "Ponch!" He was a good sport about letting all us girls hug on him for pictures. He looks exactly the same as he did 30 years ago!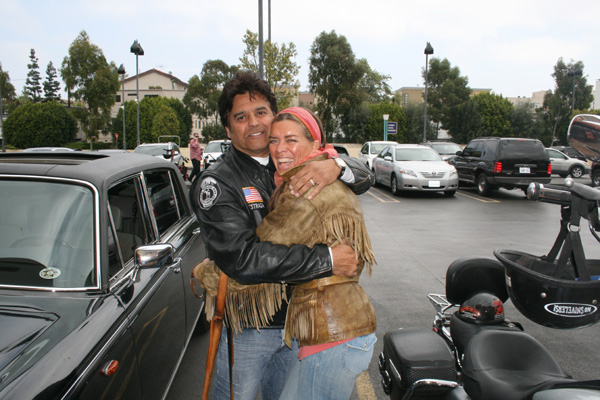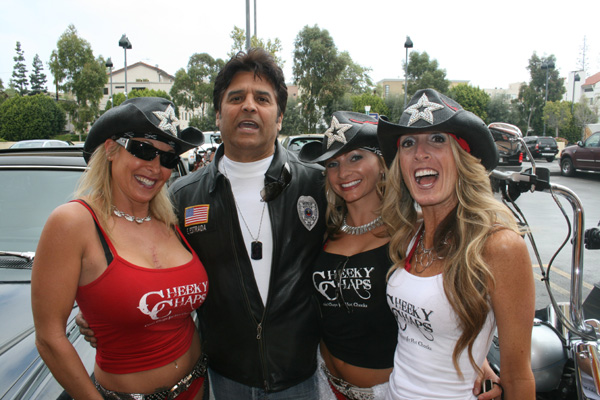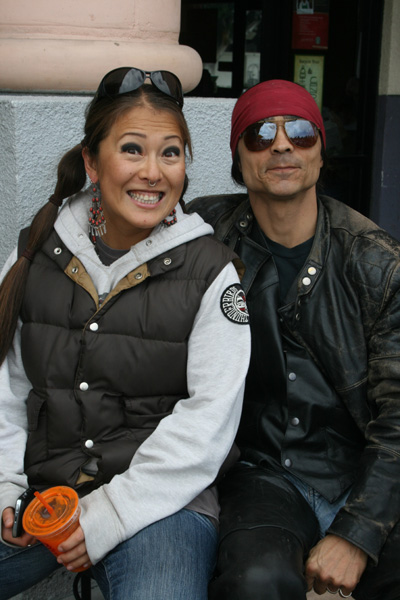 We ran into my "Renegade" TV series buddy, the insanely handsome Lorenzo Lamas at the Rock Store.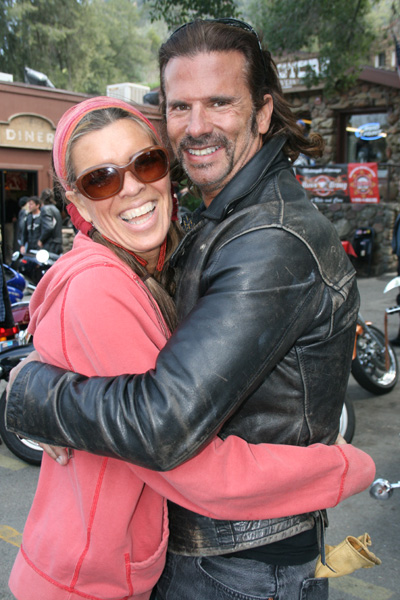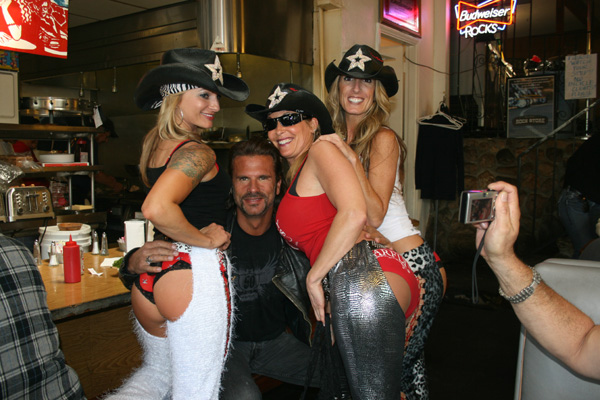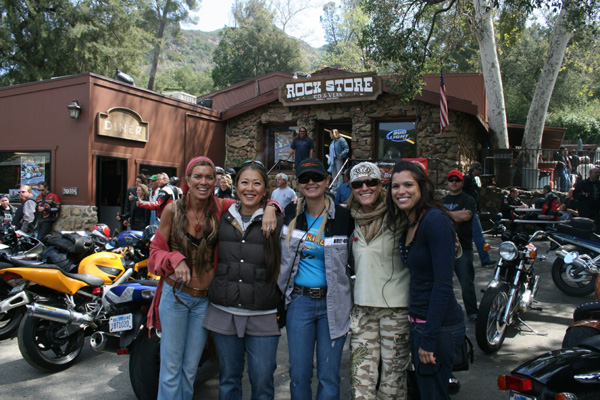 The infamously cool Gilby Clarke, former guitarist with Guns N Roses, was hanging at Neptunes Net with his gang of happening rock stars.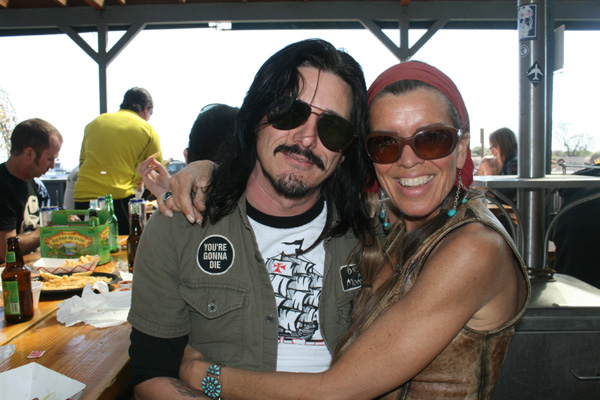 Also riding with Gilby was bike builder Russell Mitchell and his smashing girlfriend Rachael. Talk about being twitterpated, this beautiful couple looked crazy in love, which is always a pleasure to see.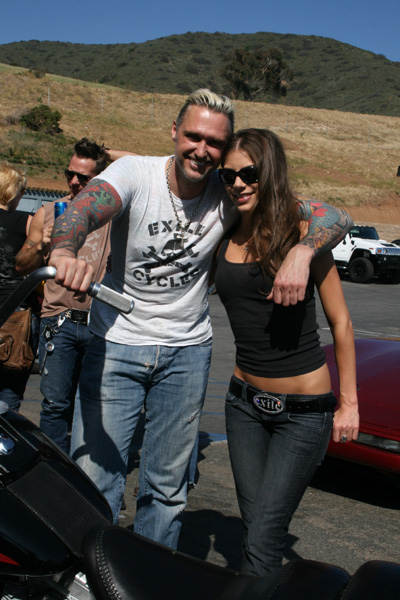 Our group did a lot of riding in the canyons, stopping to eat and play and laugh and chat, breathing in the fresh air, enjoying the sun on our skin and the wind in our hair. All of the local hangouts were buzzing with bikes and activity.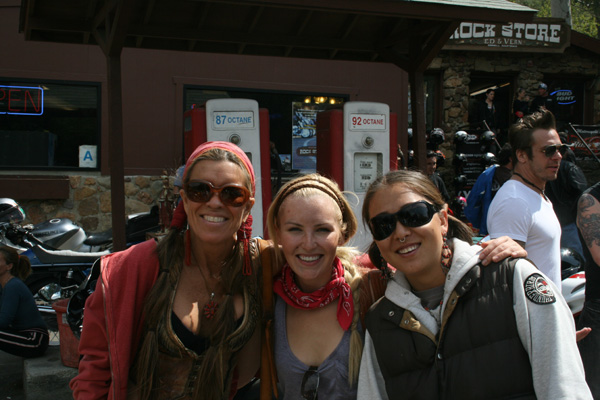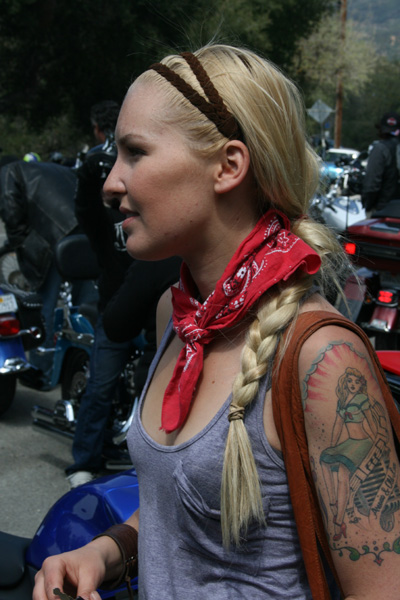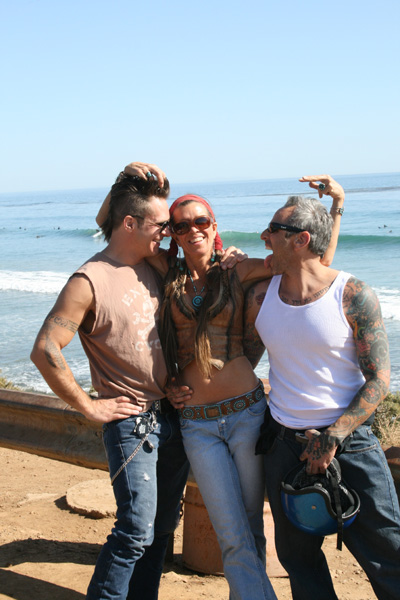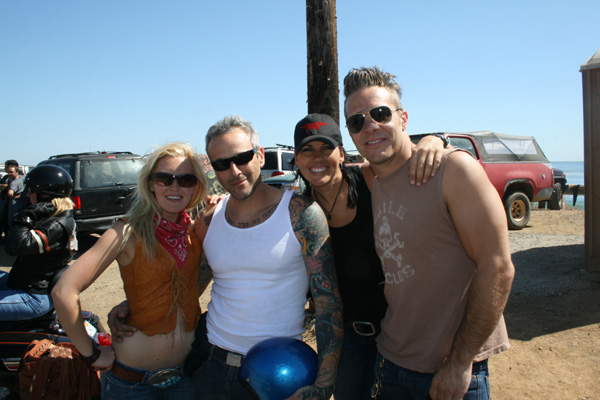 Its hard to keep a really large group together, and I did sort of lose half of our group in traditional calamity style. My buddy Ronnie and I retraced our path madly trying to retrieve our lost friends. Upon failing, he took this picture with my lips saying, "Im sorry!"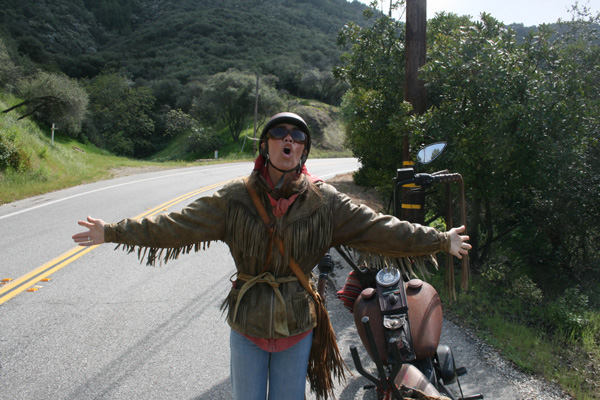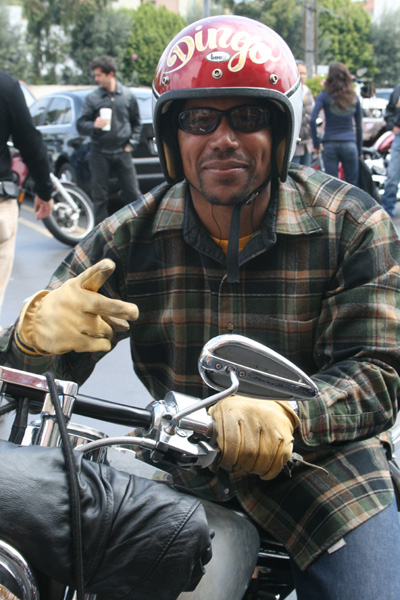 At the end of the day I ran into former professional baseball player Jose Conseco in the parking lot of the Sagebrush Cantina. His bike battery was dead so I got to help Jose jumpstart his chopper. In the down time, he hopped on my bike, and I didnt mind getting on behind him at all!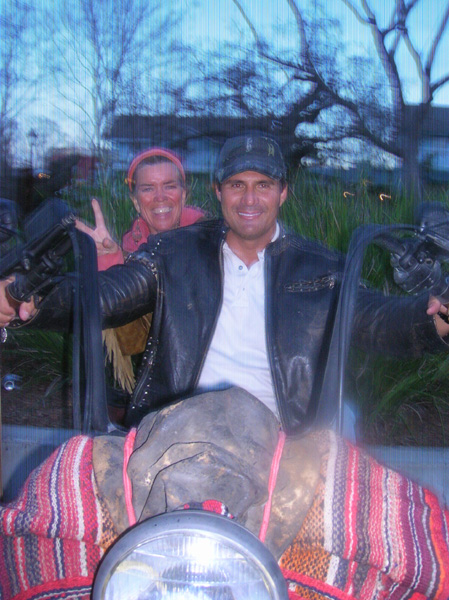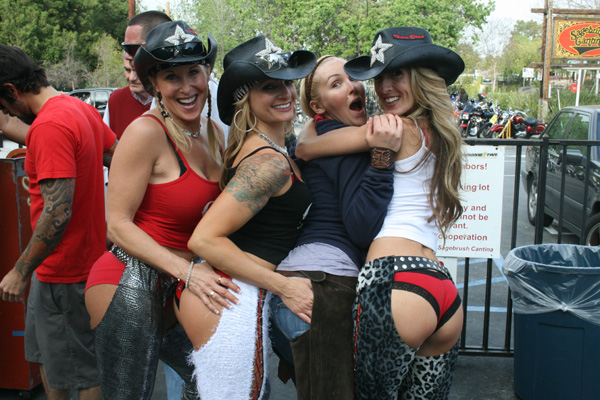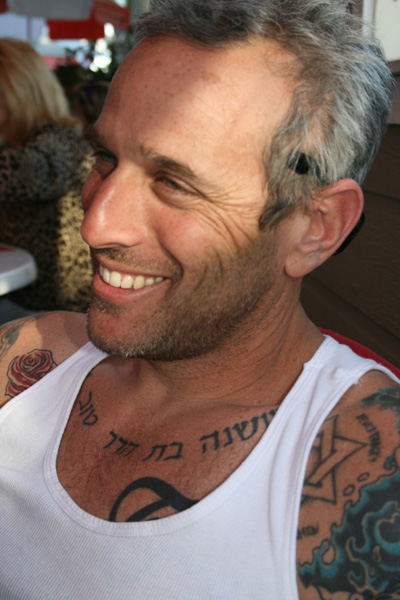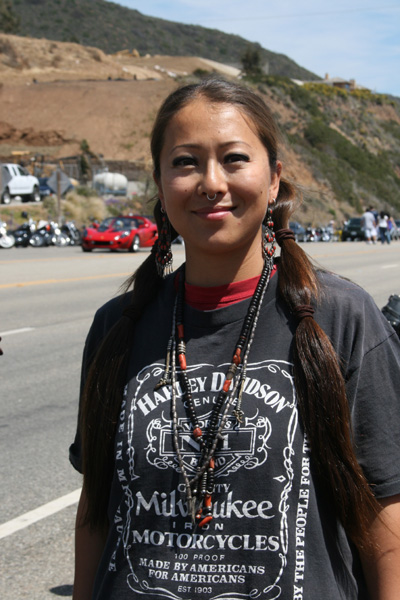 But this has all been great practice, because the Laughlin River Run is coming up, and my big Sturgis adventure (mentioned in my previous column) is fast approaching. We are busily dialing in details of my planned ride so that those who want to join in my ride to Sturgis can start refining their own plans. Heres the rough outline of days, and routes so you can put it into your calendars.
The official start date of the Sturgis rally is Monday, August 3. So this itinerary will put us there the Sunday night before that, August 2. Our cameramen will only be shooting in Sturgis on Monday and Tuesday and then leave Wednesday.
Wednesday, July 29: Los Angeles, California, to Mesquite, Nevada, 356 miles. An official departure location has not yet been selected yet. From the San Fernando Valley, well take the 210E to the 15E all the way to Mesquite. Rooms in Mesquite at the Virgin River are cheap and are dark and air-conditioned. Theres a pool, Jacuzzis, movie theaters, gambling, Starbucks, and Jamba Juice.
Thursday, July 30: Mesquite to Provo, Utah, 296 miles. Its a straight shot on the 15E all day. Provo has a beautiful lake in the mountains, and is just south of Salt Lake. We will camp near the lake. Those who prefer to get rooms can do so. We will re-convene at Harley shops in the mornings at 8:00 a.m.. Dont be late! Anyone joining in from other areas can meet us at those locations.
Friday, July 31: Provo, Utah to Lander, Wyoming, 314 miles. Take the 15E to 80E to Rock Springs. From there its smaller roads 191N to 28NE to Lander. Upon arriving in Lander, my brother the local sheriff, and his posse may throw most of us in the county jail. I will see to it that you are released before morning. We will be camping or getting rooms for two nights in Lander, spending one down day in Lander. There are several great trading posts in Lander, as well as the gravesite of Sacajawea. I also have a great mechanic friend with a Harley shop in Lander, for anyone needing a little bit of TLC. Lander is a small, slow, country town. Its a great place for a day of relaxation. For those who might want to ride ahead a bit, they can head to Thermopolis, and enjoy the outdoor hot springs and slides built into the red rocks.
Sunday, August 2: Lander, Wyoming to Sturgis, South Dakota, 386 miles. Take the 789NE to the 26NE to Shoshoni. Then take 20N through Thermopolis to Worland, which takes us through the Wind Canyon. This is the most spectacular section of the ride. The roads, the mountains, the river, and tee pees – its just awesome!
From there well take 16NE to Buffalo, and at Buffalo we catch the 90E and hope to get into Sturgis before the sun goes down. I love riding into the Black Hills when I can see them, but sometimes the long day gets away from you. Either way we'll be in Sturgis by Sunday night. We may try to do an official arrival destination shoot that night. Some shooting will be done on Monday and Tuesday. After that, you're on your own. I continue to Minnesota after the rally, but many people will be going back at all different times.
Enjoy riding in the spring air!
To read more about Betsy, visit her Web site, BetsyHuelskamp.com.