The museum itself is magical and appeals to all, but for women riders the new exhibit, "The Girls: A Photographic History of Women In Motorcycling" is the crowning jewel. Curator Dale Walksler has assembled a historical perspective through the lenses of unknown photographers with memories and memorabilia of the women who made history on, and with, their motorcycles.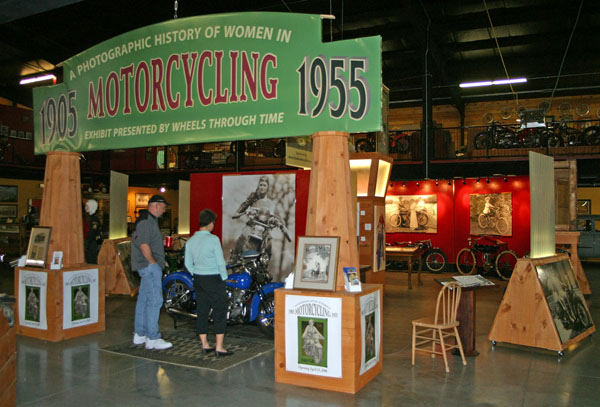 Modern Motor Maids in period costume greeted us at the door at the exhibit grand opening and circulated throughout the exhibit along with knowledgeable volunteers who told the intriguing tales behind the one-of-a-kind vehicles. The soothing background music was, from time to time, punctuated with the sound of an antique motorcycle engine starting. One person commented on the rubber left on the museum floor, this is the "museum that runs." All the motorcycles and vintage cars are in working order and Dale will start them up, much to the trepidation of the archivist on staff.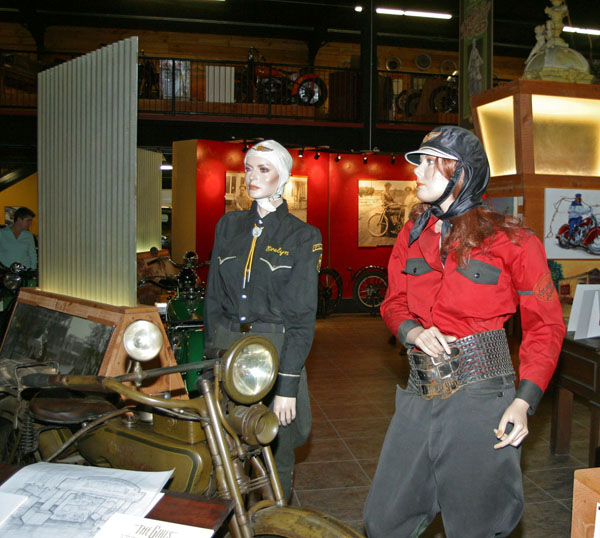 This is from the museum exhibit flyer… and I loved this: "When mother and daughter team, Avis and Effie Hotchkiss set out on a 5,000-mile round trip journey from NYC to San Francisco they had no idea they were making history on their Harley-Davidson three-speed V-twin sidecar rig. One year later in 1916, sisters Adeline and Augusta Van Buren became the first women to conquer the 14,100-foot summit of Pikes Peak on a pair of Indian Powerplus Motorcycles. Margaret Gast, who originally raced bicycles rode motorbikes in the 1930s, entered "The Wall of Death," a motordrome. Bessie Stringfield was a WWII civilian motorcycle dispatch rider. So whats next?"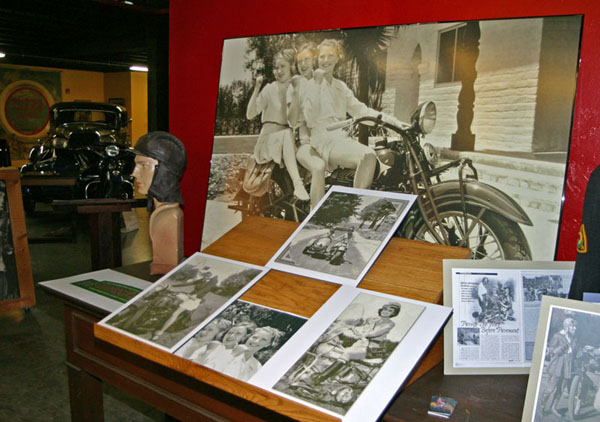 The museum also announced the opening of "The Time Machine" and gave demos at the exhibit opening. This is an online way to bring the museum and its history to everyone through streaming video programs on the history of the bikes, actual restoration in progress, and exhibit openings. More than 30 shows are online and narrated by Curator Dale Walksler and folks like motorcycle commentator Dave Despain, and many more are in production. This can be accessed at www.wttthetimemachine.com.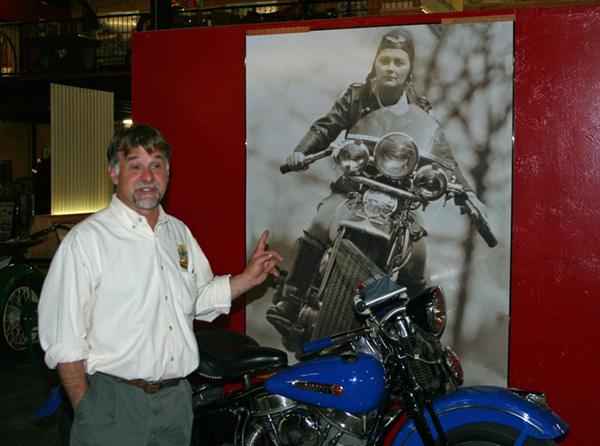 An intriguing aspect of this new exhibit is that it is a work in progress. At regular intervals during the exhibits two-year span, new photographs and stories will be introduced. Dale invites entries of photos and stories people would like to share and add to this collection housed at the Wheels Through Time Museum in Maggie Valley, North Carolina. The Web site is www.wheelsthroughtime.com.The phone number is 828.926.6266.