Since this story was posted, unfortunately Rocky Mountain Motorcycle Holidays has gone out of business, a victim of the last recession. However, this story is an ideal example of how an organized motorcycle tour is done right. Good advice here if youre considering going on any kind of organized motorcycle tour.

Want the excitement of motorcycling in a foreign country, but are intimidated by overseas travel? Like the idea of someone else taking care of the details? Then all you need to do is look just north of the border into Canada.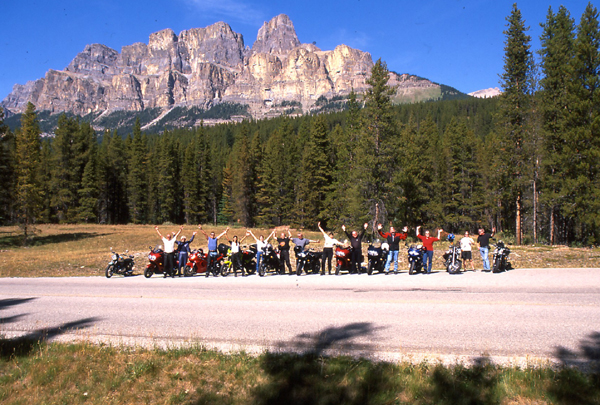 The scenery is some of the best in the world, but you dont have to go far to witness these spectacular views. British Columbia is home to the Canadian Rockies. And when the Rocky Mountains in the U.S. cross the border into Canada they get more magnificent and breathtaking. Being a lover of the Rocky Mountains, I didnt think this could be possible. Maybe its the access. Roads that hug the mountainsides get you up close and personal with the expansive mountain ranges laid out before you. Maybe its the rugged, rocky peaks different than the peaks in the U.S., yet with their own kind of splendor. Maybe its the thousands of pristine lakes that fill the basins in between layers of mountains that slope down framing just the perfect picture. Maybe its the clean, crisp air, the unpolluted areas, the friendly, simple people. Maybe its all of this wrapped into one dynamite experience that makes the Canadian Rockies a must-see on your list of "motorcycling musts."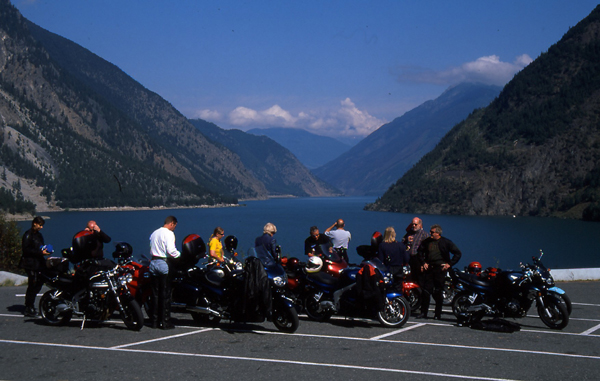 For motorcyclists seeking a grand experience with a "foreign" feel, Canada is just the ticket. It qualifies as foreign travel with different money, different stamps, a different language well, sort of. Canadian English resembles European English more than it does American English and different road signs. Highway distances are measured using the metric system, as are gas prices, and most labels are printed in English and French.
Rocky Mountain Motorcycle Holidays began in 1998 and is owned and operated by Brandon Douglas, an avid motorcycle enthusiast and experienced tour guide. I first met Brandon when he was the lead guide on my tour back when the company was owned and operated by its founder, Mike Ciebien. Brandon bought the company from Mike a few years ago and has been building upon the concept Mike started, that is creating luxury motorcycle tours with guarantees of the finest hotels and most appealing restaurants in each area. There are now 11 different tours offered including several in Canada, the western U.S., and Alaska. The seven-night, eight-day ""Western Canada in a Week" tour I took a few years ago (thats now changed to nine days total) lived up to its promise and then some.
The Service
Simply put: this is a tour company for those who want to be pampered. Pampering in motorcycling means not having to deal with mundane tasks that can bog down a motorcycle trip taking precious time away from sightseeing. Have you ever had anyone clean off your helmet visor at rest stops for you? How about fill up your motorcycle with gas while youre enjoying lunch? Or what about having someone turn your bike around after youve pulled in head-first? Its all about customer service, and these three tour guides (one of whom was a woman) knew how to perform their duties to a "T" making the seven male and five female riders and passengers feel like the "very important people" they were on this trip.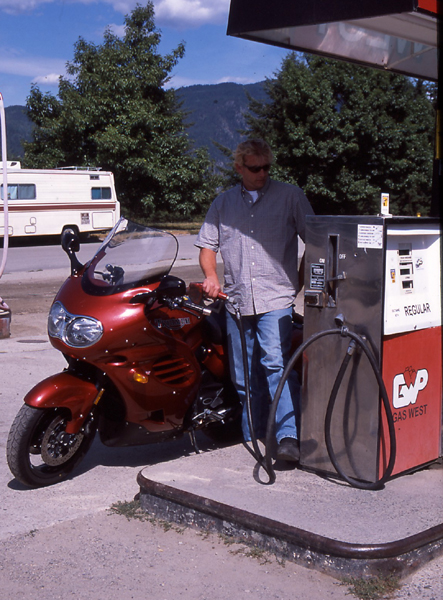 At first, the guys, and even some of us ladies, had a hard time giving in to this first-class treatment. Motorcyclists are a self-sufficient breed, but slowly we all started getting used to it realizing this kind of service was all part of the package for which we paid. Raymond Lane, a rider from Mount Juliet, Tennessee, who came with is wife, Kirbi, remarked, "I can surrender to that kind of service, but its not natural particularly when Libby [one of the guides] is carrying my luggage up the steps."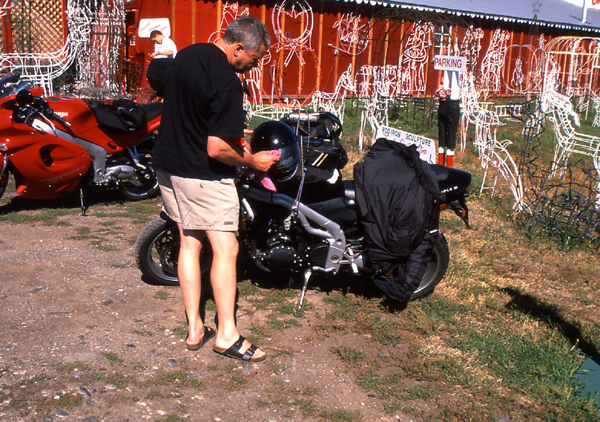 Thats right. Bellman is another job title these guides proudly wear. Our luggage was delivered to our hotel room each day upon arrival, and picked up outside our door the next morning. The guides also washed the motorcycles and performed routine maintenance on them each night ensuring they were in tip-top shape for the next days ride. (One day there were little chocolate kisses sitting on our tanks.) Lane also noticed one guide checking around our lunch tables making sure no one forgot anything.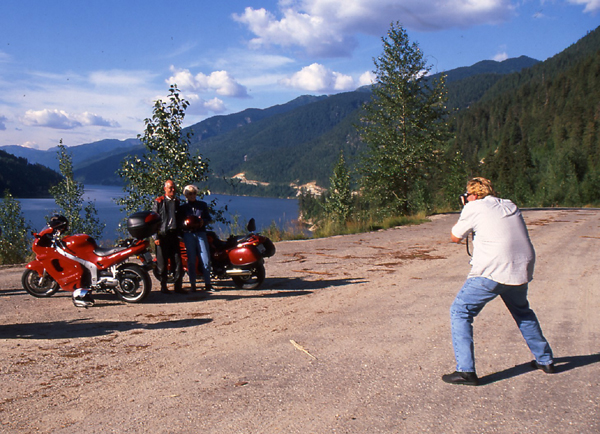 Why do the guides go the extra mile? So the riders could have more time to enjoy their rest stops, take pictures, read historical markers, get a drink and eat a snack. A cooler in the chase vehicle was always full of cold water and soda, and the guides played waiter at the rest stops. Its all part of Rocky Mountain Motorcycle Holidays philosophy stated in the brochure. "We do not lead you around, rather we help small groups of adventurers enjoy their vacation to the fullest."
The Route
All tours begin in beautiful Whistler, British Columbia. Our Western Canada in a Week tour averaged a semi-leisurely 217 miles a day (350 kilometers). Our longest 273 miles (440 kms) and took us through a range of different ecological zones. This tour is not all mountainous. Some places like the Okanagan Valley were dry and arid with rolling hills reminding me of some desert areas of the U.S. Other parts reminded me of central Californias fertile agricultural landscapelarge, lush, green fields growing some vegetable or fruit with a fresh, ripe aroma attached to it. We passed through lots of small farming communities and logging towns. Logging is a big industry in Western Canada. A fragrant woodsy, saw-dusty smell permeated the air in these areas. Each time we were about to enter a different climate zone, the guides alerted us so we could prepare with our riding gear accordingly.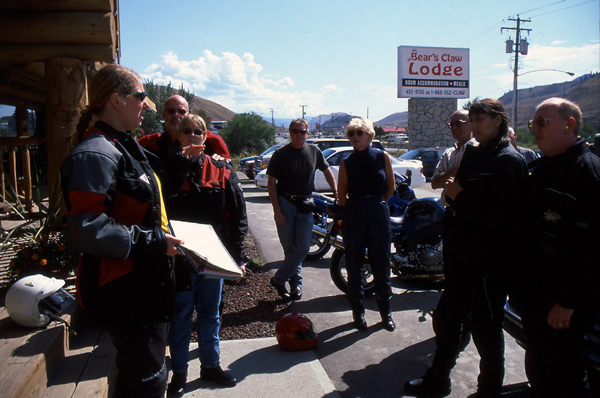 The tour I went on a few years ago spent only one day in the heart of the Rocky Mountains with a rest stop in Glacier National Park in Canada in the Selkirk Mountain Range where we rode through the famous Rogers Pass, and Banff National Park with a lunch stop beside stunning Lake Louise, an emerald jewel fed by glaciers. The heart of the mountains is where the scenery was most awesome, literally taking my breath away. The lunch stop was too short in Lake Louise. Id heard so much about this emerald pool of water and the ski resort nearby that I wanted to do more sightseeing but there was a schedule to keep. Fortunately, in response to their guest requests, the Western Canada in a Week tour now includes a full day off of riding in Banff and another in Jasper, two of Canadas jewels. I might just have to take a tour with them again.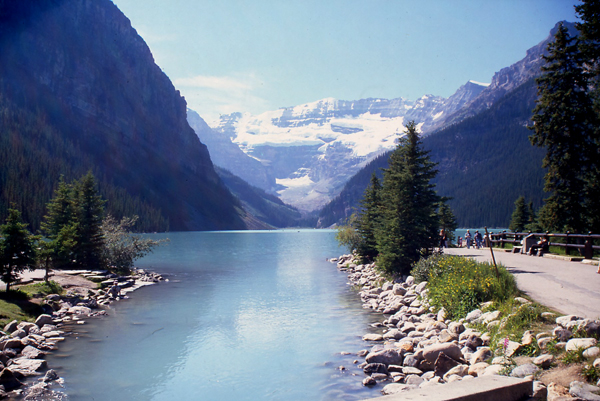 The mountain roads were as diverse as youll come by. Lots of tight twisties mixed with long sweepers. For half of the tour, I rode the cruiser-style Bonneville America (no longer part of the tour companys fleet), the motorcycle I selected when I signed up. Rocky Mountain Motorcycle Holidays owns a fleet of Triumphs and BMWs that are available for rent for tour customers, however, you are welcome to bring your own bike. You can also rent a Harley-Davidson Road King, Softail Classic or Road Glide. Even though everyone had assigned bikes on our tour, most of which were the sport-tourers that make up the majority of Triumphs line, we were invited to try out the other models. I rode each of the six different models that were brought on this tour, adding an extra element of enjoyment to my overall experience.
Day to Day
Our days were quite structured with each rest stop, gas stop, breakfast, lunch and dinner all planned out ahead of time. We were given a map of our entire route at the beginning of the tour and at each rest stop the guides (one lead bike, one rear bike, one in the chase vehicle) meticulously detailed the upcoming portion of the trip. They knew these roads backwards and forward right down to where we'd find ruts in the pavement. While it can be enjoyable to travel with an air of uncertainty ahead, knowing what to expect allowed us to enjoy the scenery that much more. We were not required to ride with the group, although most of us didn't mind riding behind the guides finding their pace a pleasant one. Slower riders could travel at their own pace as the rear guide and chase vehicle always stayed behind the last rider. On the last day, the chase vehicle carting all those tools and spare bike came in useful when the clutch cable on my traveling partner's Sprint ST broke. In a matter of minutes, the spare bike was unloaded and we were on our way catching up with the rest of the group.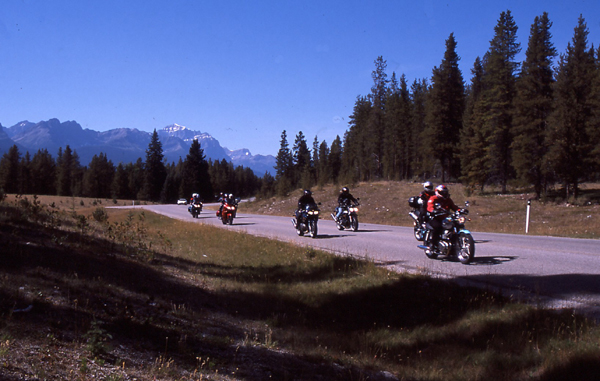 Our ride days typically started at 7:00 a.m. for an hour's full breakfast, usually served at the hotel, followed up with a two- or more- course lunch, concluding with dinner, the five-course kind, commencing around 7:30 p.m. In that respect, the days were structured leaving sometimes only 90 minutes to rest, shower, and regroup for dinner.
You'll never go hungry on this tour. In fact, I found the lunches to be too much. I, like most bikers I know, usually combine breakfast and lunch, filling in the afternoon gap with a light snack to avoid that post-lunch lethargy. By the 24th meal with the same people, I was ready to eat a quiet, intimate meal with just my partner.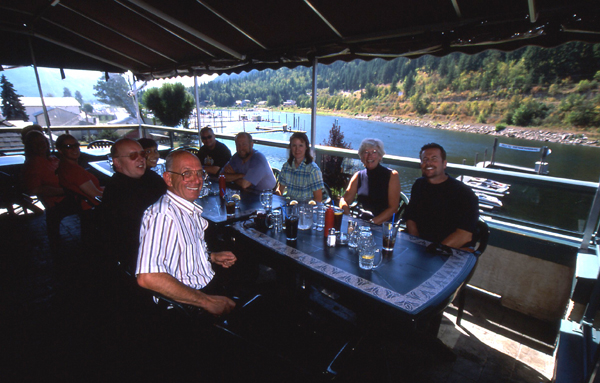 The accommodations were top notch, the kind with fluffy pillows and fluffy towels in each room. Our guides also knew which tourist spots we'd enjoy and which ones to avoid. One place that was off the beaten path, quite hard to describe and not listed in any tourism guide was a combination antique, ice cream, and Christmas shop. On the outside it didn't look like much, but it was one of those diamonds in the rough our guides knew we'd like.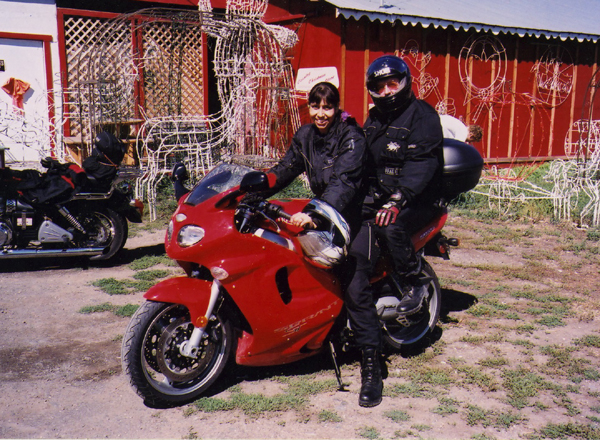 This tour lived up its promises as far as what could be controlled. The brochure did boast of incredible wildlife sightings, but I don't recall seeing anything other than maybe a deer. That's O.K. The scenery, good riding and good company more than made for an absent elk.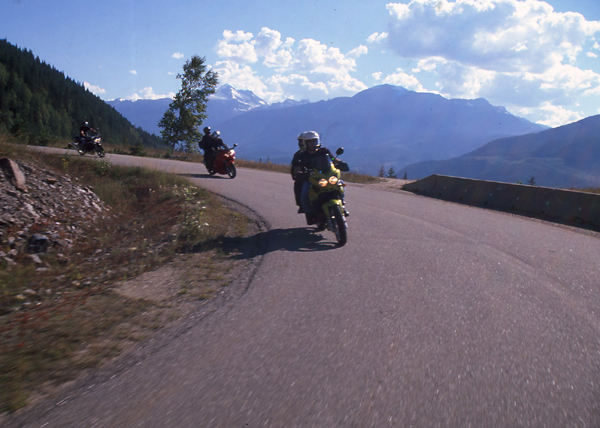 Why Women Would Be Attracted to Rocky Mountain Motorcycle Holidays
1) Pack all you want. Your luggage is carried in the chase vehicle and there is no limit to the number of bags you can bring. Each motorcycle is equipped with saddlebags and a top box, so there is plenty of storage on the bike as well.
2) Try out different bikes. If you are not comfortable on the motorcycle you've chosen, the guides will do as much as they can shuffling around bikes to make sure they find you one you like.
3) Bathroom breaks. There are plenty of bathroom stops scheduled throughout the day, including the first one usually just 37 miles (60 kms) into the ride. Smartly planned for those big coffee drinkers. Joanne England, a passenger on this trip, noted, too, that, "Women's needs were taken into account as far as washroom facilities. They were appropriate wherever we stopped."
4) Ice breakers. After the first day's ride, the guides organized an informal pre-dinner social in their hotel suite supplying wine, beer and snacks as a way for the group to get to know each other better.
5) Looking out for you. Kirbi Lane, who rode a Sprint ST, said it best. "For a beginner rider, this is the perfect tour. The guides are always watching out for you; they take care of you. If you don't want to ride one day, they won't make you feel bad putting the bike in truck."
6) Female tour guide. It's always nice to have a female guide along to balance out the gender mix and share things that only women could relate to.
7. Traveling Alone but want to share costs? The company has a roommate request list (single men and women looking for a roommate to share room costs) for those who want to take advantage of the lower "shared room" rate.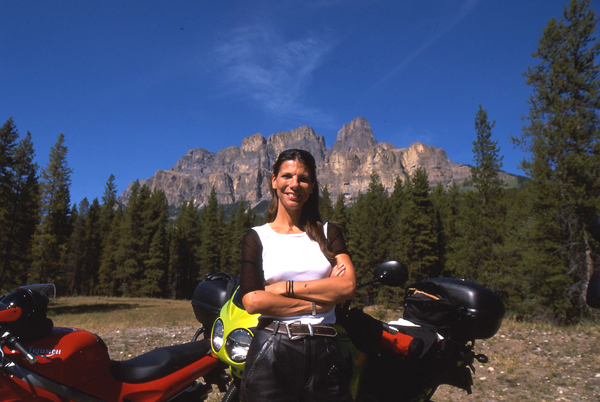 I went on this tour in 2002. The cost of a similar tour today with this company runs about $5,000 US, but is worth every penny. To learn more about the tours, visit RockyMtnMoto.com or call 604.938.0126; toll free from North America, 888.299.5534; toll free from the UK, 0800 085 8804.
Rocky Mountain Motorcycle Holidays is offering an incredible slate of tours for 2011. If you decide to go on one of these tours, WRN will send you a free gift. Just be sure to let Rocky Mountain Moto know you heard about the tour from WRN. Click here for the 2011 schedule.
Related Articles
Thinking of Going on an Organized Motorcycle Tour? Read this first.