Hundreds of Harley-Davidson women riders joined together in Daytona Beach, Fla., for one of the largest Harley-Davidson womens rides in history. Originally, the Harley-Davidson Womens Day Ride benefiting Muscular Dystrophy Association (MDA) was to be limited to 105 women, but after an incredible response from women riders asking to join the ride, Harley-Davidson decided to increase the size to accommodate the large demand.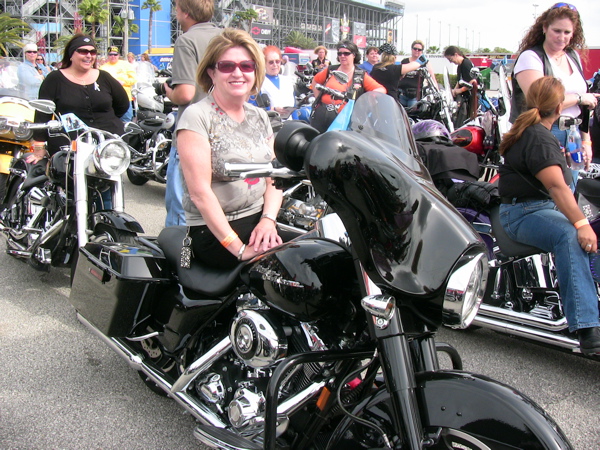 About 250 other female riders were joined by Karen Davidson, great-granddaughter of one of the Companys founders, as well as the six "Get Down to Daytona" contest winners as they cruised through the streets of Daytona to thunderous applause from spectators. Women Riders Now was there covering the event and tells the story in photos. Click on WRNs Photo Gallery for the story.
"The success of the Womens Day Ride reflects the growth of our female riders over the past two decades, from 4 percent in 1990 to 12 percent today," said Karen Davidson. "The event raised more than an incredible $67,000 in contributions."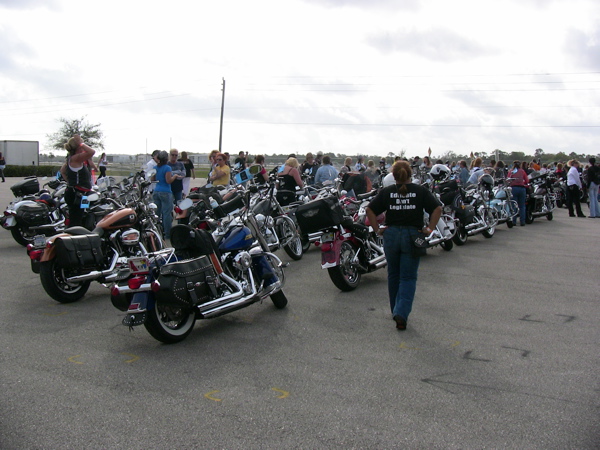 Women participating in the ride raised money for their local MDA office to help send children to MDA Summer Camps. Three women received special recognition as the top fundraisers for the event: Joanne Mold of Forest Hill, Md., ($3,055 raised), Dee Roberts of Bernville, Pa., ($2,717) and Lynne Cone of Houston ($2,715). Each received a 105th Anniversary Harley-Davidson womens jacket, and had lunch with Karen Davidson, the six Get Down to Daytona contest winners and MDA ambassadors.
One week at MDA Summer Camp costs $800 per child, so women who raised that amount or more received a unique Harley-Davidson/MDA sterling silver and gold charm in recognition of their gold-level fundraising. Women who raised at least $400 received a sterling silver charm.