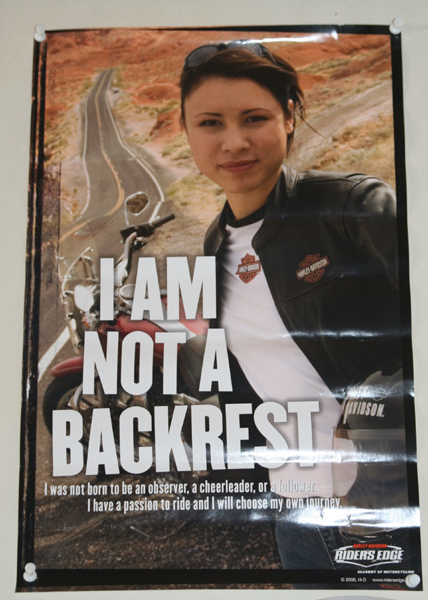 Harley-Davidson introduced a new campaign with the slogan "I Am Not A Backrest" at the 2006 AMA/FIM Women and Motorcycling Conference in Athens, Georgia, in early July. Posters and brochures featuring a woman rider with that quote will be used as part of the Motor Companys Riders Edge program and be given to dealers to use in advertisements and marketing materials.
"I think the message is very powerful," says Laurie Clemens, Marketing Lead for Riders Edge. "Its empowering for women. Its strong." The campaign is a revival of a slogan used in 2000 by the Motor Company. Clemens says an updated look was established with a new photo shoot as well as a video to go along with the materials.
The campaign is designed to encourage women to move from the backseat of a motorcycle to the front and seek rider training. The message points them to Riders Edge, the Harley-Davidson Academy of Motorcycling, offered through local dealers. Brochures and posters will be distributed to dealers to promote the courses.
"The message is not in your face, its not attitude, its more of Hey, this is it. This is what I can do," says Clemens.
To access the "AMA/FIM Women Conference in Pictures," a story told through photos, click here.