(From Press Release)
Harley-Davidson opened its first authorized dealership in East China on Nov. 3, 2007 in Shanghai. Jim Ziemer, CEO of Harley-Davidson Inc., David Foley, Harley-Davidson Asia Inc.s Managing Director for China, and Mr. Wan Jiwen, Manager of Shanghai Harley-Davidson, took part in a special ceremony activating an eye-catching flame-display of the well-known Harley-Davidson Bar amp; Shield logo.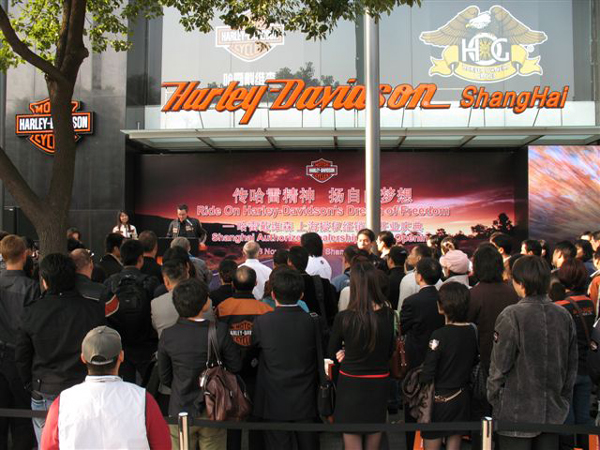 The dealership in southwest Shanghai offers a range of the Companys imported premium American-built motorcycles, Genuine Motor Parts and Accessories, and Harley-Davidsons MotorClothes apparel. Customers visiting the showroom will have an opportunity to sample the Harley-Davidson culture and spirit. Factory-trained personnel will be on hand to guarantee a genuine Harley-Davidson experience. Shanghai Harley-Davidson will share the fun, passion, and lifestyle of Harley-Davidson with all customers and enthusiasts.
"We are very excited to announce the official launch of Shanghai Harley-Davidson," said Ziemer. "We look forward to getting to know Shanghais Harley-Davidson fans!"